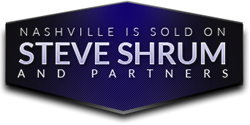 I always look forward to helping my clients find the right home or the right buyer.
Nashville, TN (PRWEB) August 14, 2013
Steve Shrum, one of the Nashville real estate industry's most prominent realtors, recently announced the launch of his new website, SteveShrum.com. The site aims to provide prospective buyers and sellers in Greater Nashville with a window into the housing market in the region.
"We built the site so we could provide online users with a reliable and up-to-date resource on the region and its housing options," says Shrum. "Whether you're interested in Hendersonville real estate or you're thinking about selling your property anywhere in the Nashville metro area, you will find helpful tools, articles and guides here."
Featuring a variety of property search tools, the new website lets visitors easily search for current listings of anything from Gallatin homes to Brentwood condos. It also provides various home-buying and selling guides and roadmaps as well as financial tools such as a mortgage calculator. Newcomers to the area will want to take a look at the Communities section, where local resources can be found on the various towns and cities that make up the region.
"The Greater Nashville, specifically Hendersonville and Gallatin, area is one of the best places to live in the country," says Shrum, "And I always look forward to helping my clients find the right home or the right buyer here." Armed with over two decades' worth of experience in real estate, Shrum is known for his unparalleled knowledge of the local market and complete dedication to his clients goals. He has received numerous accolades throughout his career, including a lifetime membership in the Multi-Million Dollar Sales Club.
To learn more about Steve Shrum's services and to start looking for real estate in the region, visit http://www.SteveShrum.com or get in touch with him and his team directly.