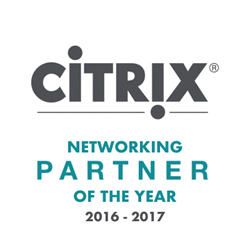 I am thrilled that we have won the Citrix Partner Of The Year Award, it is testament to the hard work, dedication and tireless commitment of our technical and support team members. - Nigel Redwood, CEO
London, England (PRWEB) January 17, 2017
Nasstar PLC announced today that they have won the Citrix Networking Partner Of The Year award at the 2017 Citrix Summit in Anaheim, California.
The Citrix Summit is the perfect setting to spotlight the outstanding contributions made by Citrix partners in 2016 and the annual award ceremony recognises Citrix Solution Providers (CSPs) like Nasstar PLC and their achievements.
Citrix Vice President, Rafael Garzon commented on the award win by saying:
"We are pleased to recognise our award winners for their exceptional achievements in 2016. Throughout 2016, these partners demonstrated their commitment to our mutual customers, continued to drive new opportunities to sell Citrix solutions and provided sales, technical and marketing excellence."
Nasstar PLC has been a Citrix partner since 2002 and was a founding member of the Citrix CSP Program, they were one of the first service providers in the UK to deliver applications using Citrix Metaframe and currently they have tens of thousands of users based on their cloud platforms with Citrix technologies underpinning them. In 2012 Citrix awarded Nasstar the European Citrix Service Provider of the Year award and in 2014, they were named as the Fastest Growing Client Solutions Advisor (CSA).
Nasstar CEO Nigel Redwood is justifiably proud of their achievement, saying today "I am thrilled that we have won the Citrix Partner Of The Year Award, it is testament to the hard work, dedication and tireless commitment of our technical and support team members, each of whom contributed to winning this award. I am delighted to accept this award from Citrix on behalf of the entire team."
Nasstar intends to build upon this award and not rest upon their laurels, in 2017 they plan to extend the depth and breadth of their internal Citrix training programs, ensuring familiarity with Citrix technologies, to a deep technical level, across their entire group, setting them in good stead to win many more Citrix awards in the future.
About Nasstar PLC
Nasstar PLC is a provider of managed IT services, professional services and bespoke cloud solutions, focused on eight industry vertical sectors, Recruitment, Legal, Finance, Education, Media, Government, Charity and Media. Nasstar PLC is is a group of companies listed on the London stock exchange under the ticker symbol NASA and you can visit theirwebsite at http://www.nasstar.com for further information.