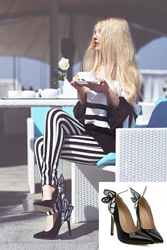 Nastydress Introduces New Buyer Show Program
Shenzhen, China (PRWEB) November 01, 2016
Nastydress is the fashion e-commerce website to shop at when looking for cutting edge, boundary pushing fashions. Nastydress has grown a huge customer following due to its sexual fashions, cheap prices, and use of high quality material. Customer experience always comes first at Nastydress and all feedback is read and taken into consideration. Nastydress has recently heard from customers around the world that they want more images of products to get the true representation of it.
Nastydress has taken this into consideration and after many meetings the company is proud to announce a new "Buyer Show Program". This program will allow customers who have already purchased a product to take pictures in them and then post them on Nastydress. The goal here is to get the true product representation out to the world. Customers buying will feel more at ease knowing what they see is what they get. Customers sharing product images will be rewarded not only with the fame of being on the Nastydress website but they will also get great rewards.
The Buyer Show Program is a streamlined program, anyone who purchases from Nastydress can be a part of. Customers simply need to go out and buy any Nastydress product of their choosing. One the product has arrived customers simply need to put it on and take a picture with the product being highlighted in a clear background. Upload the picture to the Nastydress website and the company will then review it.
All submissions will receive 10-500 Nastydress coupon points that can be redeemed for discount on a later purchase. All photos verified by Nastydress will give the person who shares a $20 gift card for Nastydress. There is no limit on how many pictures customers share and the company invites for multiple submissions of different products. Customers can make significant money back for future purchases using this program and new customers can use these pictures as a reference to the products real quality.
The new Buyer Share Program is in its infancy however, Nastydress is happy with early results. The company looks forward to adding more features and updates as the days and months roll on. Customers are invited to shop now at Nastydress or check out its sister sites Twinkledeals and DressLily. Both sister sites offer the same affordable prices but, with their own exclusive products.
Related link: http://www.nastydress.com/
Email: support(at)nastydress(dot)com