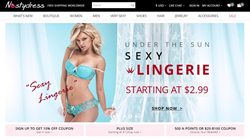 In a bid to make their products equally popular outside the US mainland, Nastydress recently brought a somewhat exciting offer for buyers paying in non-US currencies.
(PRWEB) September 27, 2016
Nastydress, an online shopping portal that has already found a firm foothold on the US soil, is now keen to increase their popularity across the Atlantic as well. The ecommerce store has successfully forged a negotiation with PayPal, the online worldwide payments system which is a preferred option for many online shoppers today. As a result, the transition fees on purchases made with non-US currencies have been heavily reduced by the online store, much to the pleasant surprise of their patrons living in parts of Europe, Asia and the Mid-East. According to the e-store owners, the transition fees for payments made in non-US currencies have been slashed down to a meager 0.5%.
Nastydress, a fast growing apparel brand that basks in worldwide reputation, sees it as a strategic move to outpace its competitors plying in the same sector. Its sister stores, namely Dresslily, Rosewholesale, and Twinkledeals, will also continue to offer low prices on quality products, the owners informed.
"Our target demographic is young people aged between 18 and 35. We intend to make every little purchase an absolute win-win for all our buyers who visit our store for buying clothes, accessories, shoes and jewelries. We are aiming at providing more convenient and cost-saving services to our users", said a sales manager from Nastydress. He also informed that last month, they started a "Share It and Get It Free", which a novel initiative to increase their consumer base beyond the loyal buyer community. He informed that they are keen on promoting their products outside the US.
"Previously, PayPal was only an option for those who used to pay in USD. Many non-US customers complained that they were paying very high transitions fees for paying in non-US currencies. We took stock of their comments and feedback and finally, we were able to reach a negotiation with PayPal. We are now offering low transition fees on five different non-US currencies, namely GBP, AUD, CAD, CHF and JPY. However, in the future, we will also add EUR, RUB, HKD, DKK, NOK, ILS and SEK. We are trying our best to make shopping more fun-filled and cost-saving for our buyers", commented the CEO and managing director of the ecommerce group.
About the Company
Nastydress is a premier online shopping portal selling men's and women's apparels, footwear, accessories and much more.
To know more, visit http://www.nastydress.com/
Email:support(at)nastydress(dot)com