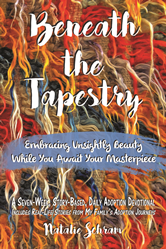 "Whether life looks just like you thought, better than you expected, or not even close to what you imagined, I know God can be glorified through it all. Your ability to move forward in your journey with Christ still in the lead will make all the difference."
ATLANTA (PRWEB) December 07, 2019
"Can you continue trusting Him as you enter this new part of your journey? Can you keep Him as the center focus? Can you trust Him with the continued growth and direction of your family?" In a latter blurb in the book by Natalie Schram, she guides families in their adoption journey and shares the love of God to empower adoptive families throughout this experience. Beneath the Tapestry is a seven-week, story-based devotional dedicated to families as they wait for their own adoption journey.
Beneath the Tapestry is a book filled with personal stories based on Natalie's adoption journeys. Each chapter gives you a glimpse of what to expect, what it will be like, and how to prepare as you welcome a new member of your family via adoption. It's also filled with words of God, thoughts to ponder, and prayers for each stage of your journey. The book's main purpose is to provide comfort and guidance for families as they walk through their journey and as they wait when their "masterpiece is revealed."
"My prayer for you and your family is to embrace the loose threads as you transition to life after placement," Natalie shares. She continues, "Whether life looks just like you thought, better than you expected, or not even close to what you imagined, I know God can be glorified through it all. Your ability to move forward in your journey with Christ still in the lead will make all the difference. Keep your family focused on Him and His greatness instead of you and your limited vision."
The author, Natalie Schram, is not a stranger to adoption. With four adoption stories of her own, Natalie is able to share her own experiences and lessons learned through this devotional. Natalie is a wife of seventeen years and a mother to six children. She shares strong pro-life convictions with her husband who supports her and empowers her on her passion for adoption, special needs, and first families.
Beneath the Tapestry provides readers a daily guide loaded with stories, lessons, and Bible readings to enlighten and strengthen families as they welcome additional members, as well as how to nurture them with love and security they deserve. This book is a product of the author's devotion to deepen the reader's relationship with God and grow their faith as they navigate through their journey.