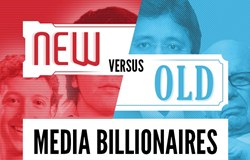 Revolution was an understatement.
Tallahassee, Fla. (PRWEB) August 05, 2013
A new article published today on NateLongMarketing.com compares the net worth of the "new media" billionaires with those who made their fortunes from founding "old media" empires.
The article, titled "New School vs. Old School: How New Media Billionaires Compare with Old Media Billionaires", features an infographic created by Staff.com, pitting the founders of Google, Facebook, LinkedIn and others against their counterparts at News Corporation, Cablevision Systems and other "old media" empires.
"What truly fascinates me is that Larry Page and Sergey Brin each have double the net worth of Rubert Murdoch," said Long. "Double the net worth of Rupert Murdoch is no small thing. Revolution was an understatement."
The founders of Google weren't the only billionaires to top the founder of News Corporation. Facebook founder Mark Zuckerberg also came out ahead at $13.3 billion of net worth.
To read the full blog post and view the infographic, readers can visit NateLongMarketing.com.
About Nate Long Marketing
Nate Long Marketing is a strategic marketing consultancy that specializes in the integration of social, mobile, content and PR. Founder Nate Long has helped more than 100 businesses gain exposure, increase sales and build critical relationships with customers. For online marketing tips, visit NateLongMarketing.com.