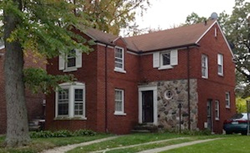 some of the smartest investors see Detroit investments as a huge opportunity
Scottsdale, AZ (PRWEB) April 04, 2014
Nate Heaps, owner of Cashflow to Retire, has been causing quite a buzz lately in the real estate community. Over the last few years, Nate has purchased a few hundred properties in Detroit in anticipation the city will rebound. "It's not a question of if because it's happening right now," says Nate. "There is a lot of money being put into the city to revitalize it."
According to the Huffington Post, Billionaire Dan Gilbert of Quicken Loans, says, "Detroit is a solid investment" and is helping to reshape the downtown area of Detroit with nearly $1.3 Billion invested.
Nate says, "some of the smartest investors see Detroit investments as a huge opportunity and I'm just trying to do what they do." Recently, Heaps released a YouTube video to help explain some of the reasoning behind why he's investing so much of his time and money in Detroit.
Nate says he'll take an ugly property that is located in a good area, fix it up, make it look nice and livable again, then rent it out for positive cash-flow. He keeps many of the rehabs as rentals and also provides them for investors as well. Investors can purchase these properties completely rehabbed and rented for positive cashflow each month.
"Most people don't realize how much potential is out there in the real estate market," says Heaps. "It's hard to believe one can buy a piece of real estate completely rehabbed and rented for $35,000 with an average rental income of $700/month. With prices that low and rents like that, investors can net a 12% - 15% return on investment each year. That's why I'm doing this."
With returns like that, it's hard to argue why Nate Heaps is spending a lot of his time in Detroit. And he's not the only one either. Donald Trump is recognized as one of the smartest real estate minds in the country. He even sees Detroit as "a good investment."
Warren Buffett, who is also recognized as one of smartest investors today, is also investing in Detroit and in local businesses to help job growth. According to USA Today, Buffett is bringing in $20 million in loans, education and mentor programs.
Those looking for investment property or additional ways to increase cashflow, can visit http://www.CashFlowToRetire.com. Here one can find Nate's inventory of properties that he has located throughout the country. One can also get access to a special report that details exactly what Nate is doing and how he is able to find these kinds of properties and offer them to investors worldwide.