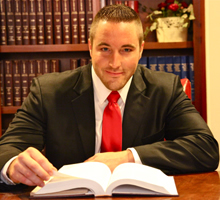 I want to ensure I continue delivering the highest-quality legal representation possible, resulting in numerous not guilty verdicts.
Tallahassee, FL (PRWEB) March 24, 2016
Attorney Nathan Prince, after breaking off from a major Tallahassee law firm, recently started his own firm, the Law Office of Nathan Prince. "I formed my own firm, after being named a partner at the largest criminal defense firm in Tallahassee, to be able to provide more personal attention to my clients throughout the process of defending their cases," said Prince, "as I was previously delegating a lot of the tasks and communication relative to the preparation of the defense."
Now that he's on his own, Prince has the ability to also be more selective about the cases he takes on because the overhead is far lower. Additionally, having a smaller caseload means being able to thoroughly dedicate himself to individual client needs.
Prior to private practice and being the lead trial attorney at his former law firm, Prince served at the state attorney's office as a senior state prosecutor in the major crimes division. During his tenure, Prince took on many complicated and serious cases, including charges for murder, kidnapping, narcotics trafficking and armed robbery.
"One of the factors that most heavily contributed to my ability to open my own firm was the success I've had with a lot of high-profile cases over the past several years," said Prince. "Due to the recognition I received from these cases, I was able to start my own firm with a sufficiently broad client base."
Prince adds that his goals for the new firm, which also has a new website (http://www.nateprincelaw.com), are centered on client satisfaction and case results, and a desire to be the most accessible attorney in northwest Florida. "I want to ensure I continue delivering the highest-quality legal representation possible, resulting in numerous not guilty verdicts," said Prince.
About Nathan Prince, Law Office of Nathan Prince
Nathan Prince has successfully handled thousands of trial and appellate cases. He is licensed to practice in all Florida State Courts and in Northern District of Florida Federal Court. The Law Office of Nathan Prince focuses on criminal defense and personal injury. For more information, please call (850) 601-5690. The law office is located at 215 Delta Court, Suite 6, Tallahassee, FL 32303.
About the NALA™
The NALA offers small and medium-sized businesses effective ways to reach customers in the digital age, while providing a single-agency source that helps them flourish in their local community. The NALA offers its clients an array of marketing tools from press release campaigns and social media management to a cause marketing program. The NALA's mission is to make businesses relevant and newsworthy, both online and through traditional media, by providing increased exposure at reasonable costs. For media inquiries, please call 805.650.6121, ext. 361.