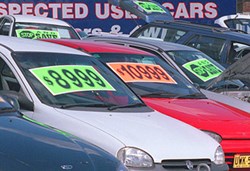 Drivers who are without a solid warranty plan could have to pay thousands of dollars for an average repair that could easily be taken care of by an extended warranty plan.
Seattle, Washington (PRWEB) October 08, 2013
Automotive repair coverage is traditionally provided through a dealership warranty when a brand new car is purchased. A vehicle owner without protection could have to pay repair expenses if a vehicle warranty has lapsed or is non-existent. The Auto Pros company has created a new database of national auto warranty providers rates online at http://www.autoprosusa.com/auto-warranty.
These rates are offered to owners of vehicles seeking a repair coverage policy in all 50 states. The partners offering the rate quote data are mixtures of regional, local and national providers able to cover any vehicle brand that is used on American roadways.
Because rates can fluctuate daily based on industry data, the partners providing data to the new database offer daily updates to car owners.
The cost of replacing engines, transmissions and other auto parts can exceed a used vehicle salvage value. Some insurers choose to limit the actual coverage amounts that are payable when a high value repair is requested. The Auto Pros database of providers does not restrict coverage amounts based on the age of a vehicle or the mileage that is currently on the engine block.
"Drivers who are without a solid warranty plan could have to pay thousands of dollars for an average repair that could easily be taken care of by an extended warranty plan," a source from the Auto Pros USA company said.
The vehicle owner database access that is granted allows quotes to be obtained from multiple companies at the same time. This approach virtually eliminates the telephone interviews and reviews that are often requested by warranty companies when a vehicle owner requests a quote in coverage. This simple online process now places the research power into the hands of vehicle owners.
"A basic set of information is now the only requirement that the partner provider database requires from a car owner to instantly review exact dollar amounts online," the source added.
The secure access that the database provides is helping to keep the requests for warranty plans private for vehicle owners. The elimination of lengthy application forms and personal data submission is expected to assure owners of cars, SUVs and pickup trucks when the system is used for quotes generation.
Drivers who are not currently seeking long-term extended warranty could benefit from the insurance plans that can also be accessed online. This database of insurers provides quotes based on zip code data and can be accessed when visiting http://autoprosusa.com/insurance online.
About AutoProsUSA.com
The AutoProsUSA.com company now provides consumers with easy access for locating automotive warranty plans for foreign and domestic vehicles in the United States. The programmed database access that consumers receive when visiting the company website now produces pricing and additional details online. The AutoProsUSA.com company is available daily through a contact system posted online or through the national telephone number provided for all customers making requests offline. This company updates its databases with new partners, content and pricing on an hourly basis during working hours to ensure all content accessed by the public remains accurate.