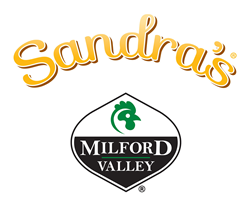 MILFORD, IND. (PRWEB) September 20, 2017
September is National Chicken Month, and Milford Valley and Sandra's brands offer a variety of chicken products to help consumers celebrate all month long. As one of the staple proteins, chicken is an approachable and versatile menu option. Milford Valley and Sandra's have capitalized on that versatility to produce convenient ready-to-cook chicken items.
The Milford Valley product line offers stuffed chicken entrées, stuffed chicken minis, chicken nuggets, and chicken strips, while the Sandra's brand features all natural chicken entrée products.
With entrées available in a variety of flavors, including Chicken with Broccoli and Cheese, Chicken Cordon Bleu, Orange Chicken and Chicken Kiev, it's easy to mix things up for National Chicken Month. Tender white meat chicken and home-style fillings create satisfying dishes that require minimal effort for quick weeknight meals or after-school snacks.
Take the stress out of mealtime and enjoy National Chicken Month by incorporating easy-to-prepare Milford Valley and Sandra's chicken products.
About Milford Valley and Sandra's:
Milford Valley and Sandra's chicken products are made at Serenade Foods in Milford, Indiana. Since 1976, the family-owned company has manufactured chicken nuggets, chicken strips and stuffed chicken minis and entrées for retail and foodservice markets. For more information, contact Milford Valley/Sandra's by phone at 1-800-348-2812 or visit http://www.milfordvalley.com or http://www.sandraschicken.com.