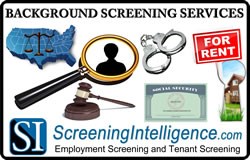 The experts at ScreeningIntelligence.com have created a comprehensive background records products page for the company's website.
Boston, MA (PRWEB) September 30, 2013
Customers who are seeking information about all of the background screening services and employment screening products offered by ScreeningIntelligence.com can now easily access everything they need to know on the new background records products page of the website.
ScreeningIntelligence.com is a leading provider of employment screening services and background check reports for employers and landlords across the country. This new background records web page is designed with the customer in mind, allowing them to look at all available products and reports at a glance before making a final decision about the background screening services they need.
The products and packages offered by ScreeningIntelligence.com are crafted in order to provide employers or landlords with background check information they need about a potential employee or tenant. Given the fact that security is a top priority across the country, employers and landlords need access to accurate, reliable information more than ever before. Screening Intelligence is an industry leader that is well known for its customer service and excellent products.
Some of the employment screening products and tenant background records services featured on the ScreeningIntelligence.com product website include:
State Criminal Background Records
National Criminal Background Records
County Criminal Background Records
Federal Court Background Records
State Eviction Background Records
National Eviction Background Records
National Sex Offender Records
Most Wanted Background Records
SSN Trace and Address History Records
Clients are welcome to purchase one of these background check products, or combine several of the searches in order to fulfill all of their needs. The service representatives at ScreeningIntelligence.com are available to help clients customize their orders so that they get the most out of their investment.
ScreeningIntelligence.com prides itself not only on its extensive list of products, but also its user-friendly website. Orders are simple to place, and customers love the fact that they receive their results in a matter of moments. Aside from providing customers with reliable information and accurate, easy-to-interpret reports, customer service is the top priority at ScreeningIntelligence.com. The company is known for taking all feedback to heart, and implementing many of the changes and updates requested by customers.
To find out more information about the new background records products page or to learn more about the employment screening products and background screening services offered by ScreeningIntelligence.com, contact the company today.
About Screening Intelligence
ScreeningIntelligence.com provides accurate and affordable background check solutions to help employers make informed employment screening decisions. County criminal data is retrieved from thousands of local and county courts in all 50 U.S. States. Pre-employment screening and tenant screening services include: comprehensive criminal background reports, federal background reports, county background checks, sex offender registry search, national eviction reports, and social security traces.