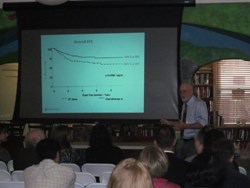 This is definitely an extraordinary day of learning and hope in the Northwest
Seattle, WA (PRWEB) August 28, 2013
The Chris Elliott Fund announces the second annual Brains Matter Conference, on Friday, September 27th from 8am to 6pm at the Bellevue Club in Bellevue, WA. This conference is available for patients and caregivers affected by brain cancer being offered free of charge. This event directly benefits the community of brain cancer patients, caregivers and families in the Pacific Northwest.
The event includes presentations and individual breakout sessions with renowned brain cancer and brain tumor specialists. The event offers a complimentary lunch and social hour in the evening to allow for open discussion on the current experiences and needs of patients and caregivers with experts in the field. Space is limited to the one-day event and available free of charge to 200 brain tumor patients, caregivers, family members and those seeking information about brain cancer.
Last year's first annual event was well received event by experts and patients alike. Attendees of the event agreed it provided hope for those caring for or fighting the aggressive disease, as described by one conference attendee at last year's event, Philip Onghai from Texas: "This is the first time that I've been optimistic and have had hope for my wife since she was diagnosed with brain cancer in 2010."
The Chris Elliott Fund shares much excitement about the event, "We are proud to be able to host and bring this vital patient, and caregiver education and awareness to the Pacific Northwest community. Education and awareness is a key component in research and our mission to end brain cancer. This conference is a great vehicle to do this," says Dellann Elliott Mydland, Chris Elliott Fund Founder & President. Also Van Cheng, CEF's Patient Support Services and Health Information Concierge Manager, is excited about the event: "It is an amazing opportunity for the brain tumor community, offering up-close and personal access to national and local brain tumor specialists; it allows for those experiencing brain cancer or a brain tumor right now to ask questions in a small group setting and get immediate information. This is definitely an extraordinary day of learning and hope in the Northwest," says Cheng.
The conference offers those affected by brain cancer to learn about the latest advancements in brain tumor treatment for adults and children, clinical trials offered on the West Coast, nutritional support for the brain tumor patient, support for patients and caregivers and a space to connect with others in the brain tumor community. The event is made possible through generous support from Genentech, Novocure, and The Bellevue Club.
For inquiries and to register for the event, go to http://www.chriselliottfund.org or call 1-800-574-5703.
About the Speakers:
Manmeet Ahluwalia, MD, FACP, Section Head, Neuro-Oncology Outcomes, The Rose Ella Burkhardt Brain Tumor and Neuro-Oncology Center, Neurological Institute, Cleveland Clinic
Patrick Y. Wen, MD, Director, Center For Neuro-Oncology, Dana-Farber Cancer Institute, Professor of Neurology, Harvard Medical School
Desert Horse-Grant, Director of Strategic Planning and Operations Solid Tumor Translational Research, Fred Hutchinson Cancer Research Center
Michael Jensen, MD, Director of the Ben Towne Center for Childhood Cancer at Seattle Children's Research Institute and Professor of Hematology-Oncology at the University of Washington School of Medicine
Vannak Cheng, CCRP, Patient Services Support Services & Health Information Concierge Manager, Chris Elliott Fund
Keynote Speakers:
Ben Williams, PhD, 17-year Brain Tumor Survivor, Bestselling author of Surviving "Terminal" Cancer: Clinical Trials, Drug Cocktails, and Other Treatments Your Oncologist Won't Tell You About
Cheryl Broyles, 12-year GBM Brain Tumor Survivor, Rejoicing in Hope
About The Chris Elliott Fund
The Chris Elliott Fund (CEF) is a brain cancer and brain tumor patient advocacy organization and national 501(c)(3) non-profit with corporate offices in Seattle, Washington. Established in 2002, Chris Elliott Fund's mission is to end brain cancer by expanding patient access to specialists, advanced treatments and comprehensive support programs. The organization and its advocates directly serves 400+ patients and caregivers every month free of charge. CEF is a member of the Society for Neurooncologists, American Association of Neuroscience Nurses, American Cancer Association for Cancer Research, Washington Biosciences Association, among others. If we can help, please contact us at WeCare(at)EndBrainCancer(dot)com.