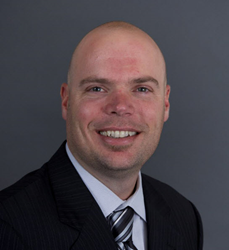 Ryan brings a tremendous amount of sales leadership best practices to National Funding. He is the ideal person to head up our direct sales group," said CEO David Gilbert
San Diego, Calif. (PRWEB) February 24, 2016
National Funding, one of the country's leading financial technology companies, is pleased to announce Ryan Freitas has been promoted to Director of Sales. He brings more than 15 years of sales experience in the financial services industry to his new role at National Funding. Freitas most recently served as National Funding's National Sales Manager.
In his new position Freitas will lead National Funding's Direct Sales Group. His teams work directly with small and medium-sized business owners to provide working capital loans, equipment financing, merchant cash advance and credit card processing. Freitas will have six teams report directly to him. In addition, he will recruit new team members as well as monitor, motivate and coach more than 70 sales staff.
Prior to joining National Funding in 2012, Freitas held account manager positions at a number of financial services firms, including San Diego Torrey Hills Capital, Inc. and MD7, Inc. He founded DebtzEnd, Inc. in 2009 to develop customized debt relief solutions for clients. In 2000 Freitas learned the nuts and bolts of sales when he held the position of account specialist at Fastenal, a global supplier of OEM, MRO, and construction products.
A graduate of San Diego State University, Freitas earned his bachelor degree, with emphasis in communicative disorders. He received his associate in arts degree from San Joaquin Delta College, Stockton, California. As a starter on the college's baseball team, he won the Most Inspirational Award.
"Ryan brings a tremendous amount of sales leadership best practices to National Funding. Because of his extensive experience working with small businesses, he is the ideal person to head up our direct sales group," said CEO David Gilbert. "We continue to grow, and Ryan has been an integral part of this growth. His breadth of experience and passion will continue to pave the way for our success."
National Funding has provided more than $1 billion in capital for more than 20,000 businesses nationwide. The company believes in American small business owners, and strives to provide fast turnaround, flexible solutions and great service to all of its customers and clients in a diverse range of industries
For more information about National Funding, visit http://www.nationalfunding.com.
About National Funding
Founded in 1999, National Funding is one of the country's leading financial technology companies for small and medium-sized businesses, providing working capital loans, equipment financing, merchant cash advance and credit card processing. National Funding serves a diverse group of industries including: construction, excavation, manufacturing, retail, packaging, printing, restaurant, telecommunications, trucking, transportation, and waste management, among others. The company was recognized on the Inc. 500 | 5000 list for the past three years, as well as placing on San Diego Business Journal's Fastest Growing Privately-held Companies for the past three years. For more information, please visit: http://www.nationalfunding.com.