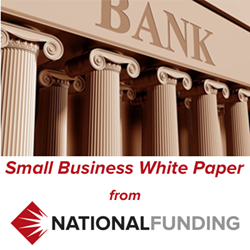 'Because traditional lenders aren't lending, we've picked up the slack and what was once thought of as alternative is now becoming the new normal,' said National Funding CEO David Gilbert.
San Diego, CA (PRWEB) May 23, 2014
National Funding, a small business financial services company and alternative lender, today released its white paper titled "Where to Go for Financing When the Bank Says 'No.'" With traditional bank financing no longer a viable option for many business owners, this whitepaper covers five financing avenues. The following funding sources are discussed: Small Business Administration (SBA), family and friends, home equity, credit cards, investors and alternative lenders.
The latest National Funding white paper addresses the subject of where a small business owner can go to secure funding to cover startup costs and/or funds needed to help them run and grow their established business. A recent study by the Federal Reserve Bank of New York found 90 percent of small businesses have had a loan request rejected by their bank in the past year.
In this white paper, owners find a brief summary for loan procurement options other than their bank.

U.S. Small Business Administration (SBA)
Typically the application process for procuring a loan through the SBA process requires an application, business plan, financial statements, credit check – along with resumes, business licenses, and other owner personal information. The entire process takes a minimum of 60 to 90 days to process the loan application.

Seeking loans from friends and family may spell tax trouble for small-business owners. The IRS mandates that loans from loved ones must still carry interest rates. In addition, the axiom "never mix business with pleasure" often proves itself true. Family and friends want to help owners in need, but sometimes, these partnerships end in grudges and family conflict.

A home equity loan is a loan that enables a small-business owner to secure funding by putting his or her home's equity up as collateral.. The loans typically feature variable interest rates – possibly leading to payment increases and refinancing difficulties.

Credit card cash advances may be risky and expensive. The loan agreements are not transparent and owners can find themselves with loans that are vulnerable to swings in the market with high interest rates.

In the case of both venture capitalists and angel investors, owners have to ask themselves whether the needed money is worth ceding aspects of ownership and management to outside investors.

Alternative lenders provide flexibility and an easy loan approval process. They require less documentation and have less stringent credit standards –accommodating small-business owners who need to get a loan quickly. Simpler policies mean working capital loans can be processed in a week's time, or even less. The process can often be handled online versus having to meet with a loan officer.
"Our new white paper is meant to serve as a resource to help small business owners evaluate financing options. Big banks have closed their pocketbooks to small-business owners, and we've seen how other financing options, like credit cards and home equity loans present a range of other issues," said National Funding CEO David Gilbert. "Because traditional lenders aren't lending, we've picked up the slack and what was once thought of as alternative is now becoming the new normal."
Download the free National Funding white paper "Where to Go For Financing When the Bank Says 'No'" at http://www.nationalfunding.com/white-papers/.
For more information about financing and leasing equipment, visit http://www.nationalfunding.com.
About National Funding
San Diego-based National Funding is a full service financial services company for small to medium-sized businesses nationwide. It provides working capital loans, equipment leases, merchant cash advances and credit card processing. National Funding serves a wide diversity of businesses including, but not limited to: trucking, restaurants, automotive repair, construction, excavation, multimedia, manufacturing, telecommunications, printing, packaging, waste management, and more. National Funding was recognized as a 2013 Inc. 500 | 5000 company as well as one of San Diego's 2013 Fastest Growing Companies. For more information, visit the company's website http://www.nationalfunding.com.