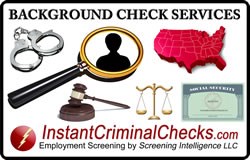 The National Instant Criminal Background Check System is a service provided by the FBI for purchasing firearms in the United States.
Boston, MA (PRWEB) January 31, 2014
InstantCriminalChecks.com, one of the nation's leading providers of accurate, instant national criminal background checks, recently launched an information sheet about the National Instant Criminal Background Check System (NICS). This tip sheet is designed to provide clients and those interested in criminal background checks with valuable information about this important federal program.
The National Instant Criminal Background Check System is a service provided by the FBI, and is designed to be a point-of-sale check of people who are purchasing firearms in the United States. The goal of this program is to prevent potentially dangerous criminals from purchasing handguns in the country, and aims to prevent guns from getting into the wrong hands. In addition, it also allows eligible gun owners to quickly and easily make their purchases.
This system is only used when guns are being purchased from federally-licensed dealers. When two private sellers are completing a sale of guns, it is allowed to proceed without this background check. The only exception would be if the private sale of guns without a background check was prevented by state law. People who are about to complete a private transaction should check with their state laws prior to making the sale.
When a person goes to make a gun purchase from a federally-licensed dealer, the NICS check is completed immediately. The seller of the gun either contacts the program via telephone or on the computer, at which point the background check is run. The gun buyer's information is forwarded to electronically to the NICS, at which point the information is run through the background check system. This e-check system will determine whether or not the gun buyer is eligible to complete the purchase.
The National Instant Criminal Background Check System is used by 30 states across the country, as well as five different United States territories. Its use is mandated by the Brady Handgun Violence Prevention Act of 1993. The system was put into place in 1998, and since then more than 100 million background checks have been performed on people who are interested in purchasing guns. Of those 100 million checks, nearly 700,000 people were denied access to purchasing a gun, potentially preventing dangerous and lethal incidents from occurring.
The NICS came into fruition after President Bill Clinton signed the Brady Handgun Violence Prevention Act of 1993 into law. This act called for a federal background check program to be created in order to prevent firearms from ending up in the hands of unqualified people or potentially dangerous people.
People who are prevented from buying guns under the Gun Control Act include:
Fugitives
Those who are addicted to controlled substances
People committed to a mental institution
People who are in the United States illegally
People who have been dishonorably discharged from the military
Anyone convicted of a crime and put in prison for more than one year
Anyone convicted of a misdemeanor domestic violence crime
People who have restraining orders placed on them
A citizen who has renounced their United States citizenship
InstantCriminalChecks.com does not provide NICS services. These services are only provided by the FBI and are available to federally-licensed firearms dealers.
InstantCriminalChecks.com does provide instant and accurate criminal background search products for its clients. For more information on how these easy-to-read background checks could benefit your business or personal life, contact the customer representatives at InstantCriminalChecks.com or visit their website at http://www.InstantCriminalChecks.com.
About InstantCriminalChecks.com
Instant Criminal Checks offers criminal background checks that range anywhere from $15 to $60, giving you the affordable options that you need. Whether you need state criminal checks or a national criminal background check, InstantCriminalChecks.com is equipped to provide you the information you need in only seconds.