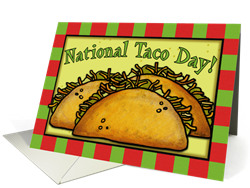 Once shoppers discover the variety of cards we offer, especially for errant holidays and occasions like National Taco Day, they'll never shop anywhere else.
San Francisco, CA (PRWEB) October 04, 2013
Greeting Card Universe, the world's largest greeting card store, announces its collection of unique cards in unusual categories including cards for National Taco Day (October 4).
"From fish to beef, pork to chicken to vegetarian, there's no denying tacos are a popular dish eaten world-wide in many cultures," says Mindy Rosso-Gaemi, Community Manager at Greeting Card Universe. "In the US alone, Americans consumed 4.5 billion tacos in 2012 according to infographic by Forkling."
According to Smithsonian.com, history professor Jeffrey M. Pilcher of the University of Minnesota theorizes "taco" comes from 18th century silver mines in Mexico. The word refers to a small wrapped gunpowder charge used for blasting rock—in Mexican Spanish, literally a "wad" or a "plug." By the end of the 19th century, taco became the name of the dish familiar to Americans: some type of meat and/or vegetables with sauce wrapped in a flour or corn tortilla.
Mexican immigrants to California in the early 20th century brought their favorite food with them and quickly began selling tacos from pushcarts as a convenient street food. Following WWII, the taco went main stream with the founding of the Taco Bell franchise.
"Today, tacos continue to be offered by food trucks, fast food businesses, even upscale restaurants and served as trendy wedding fare," says Rosso-Gaemi, a self-professed taco addict. "And Greeting Card Universe even offers greeting cards to celebrate National Taco Day bringing yet another obscure holiday into the fold of mainstream card offerings."
Ordering from Greeting Card Universe's collection is easy and convenient. "Once shoppers discover the variety of cards we offer, they'll never shop anywhere else," says Rosso-Gaemi, "especially cards for these nearly impossible to find, errant holidays and occasions like National Taco Day and Cranky Co-worker Day cards on October 27, 2013."
Additionally custom greeting cards can be created within 48 hours at no additional cost by requesting changes or a totally new design from a community of more than 6,100 freelance artists from around the world. Shoppers can also personalize the inside of all cards at Greeting Card Universe with their own text and photo. An added convenience for last minute shoppers, cards can be ordered online and picked up—usually within one hour—from most Target stores across the country.
Greeting Card Universe's traditional and niche offerings of over 597,000 cards gives nod to the importance of choice and personalization in today's marketplace and stays true to its tagline "any card imaginable."
Explore more uncommon holidays and occasions on the Greeting Card Universe blog. Mindy Rosso-Gaemi is available for guest blogs, radio and TV interviews on this topic and other uncommon occasions and holidays.
About Greeting Card Universe
Greeting Card Universe (http://www.greetingcarduniverse.com) is a division of BigDates Solutions, a private company that provides consumers with unique, personalized services for any holiday or occasion. Greeting Card Universe is the world's largest paper greeting card store, offering an unlimited selection of custom greeting cards, birthday greeting cards, photo cards, invitations, and note cards. Greeting cards can optionally be mailed or shipped to the shopper or recipient from either US or UK print facilities. Cards can also be printed and picked up at over 1000 Target stores Photo labs. BigDates Solutions is also the creator and operator of Birthday Calendar Classic for Facebook and iPhone.