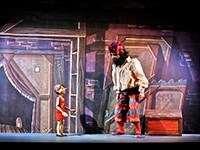 Bringing you the very best in family entertainment for over forty years.
Owings Mill, MD (PRWEB) December 13, 2013
National Marionette Theatre in Pinocchio
Sunday, January 26, 2014; 3:00 pm
Monday, January 27, 2014; 10:00am
$10/person in advance
$12/person at the door
Watch one of the longest running, touring marionette theaters in the United States perform. Set in Italy during an unspecified time, "Pinocchio" is the story of a willful wooden puppet that runs away, embarking on a series of adventures before deciding to behave with the hope of becoming a real boy. Written by Carlo Collodi, a pseudonym for Carlo Lorenzini, the novel was serialized in Italian before being published as "The Adventures of Pinocchio" in 1883. Translated into English in 1892, numerous editions of the story have since been published, most notably the version by M. M. Sweet in 1927. The tale was made into an animated film by Walt Disney in 1940.
Pinocchio, Carlo Collodi's epic about a puppet who wants to become a real boy, is a classic example of storytelling at its best. This adaptation is a faithful re-telling of this childhood favorite. Follow the most well-known wooden boy as he struggles through a series of adventures and discovers and finds that only by being truthful, selfless, and kind to others will he realize his dream of becoming a real live boy.
Founded in 1967, this award-winning company specializes in adaptations of popular stories using marionettes as the performance medium. As the sons of artistic director David Syrotiak, puppeteers David and Peter Syrotiak have been building and performing with the company since they were teenagers. Dedicated to keeping the tradition of professional puppetry alive, the two brothers are sure to enthrall an audience of all ages.
For more information, visit this link.
The Gordon Center for Performing Arts is in the Arts and Culture division of the Jewish Community Center. It was opened in 1995 as a multi-disciplinary arts center. Over the years, the Gordon has presented local, regional, national, and international artists in theater, dance, music, comedy, family programming, and more.