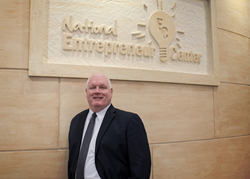 "The NEC has become a critical part of our region's overall economic development strategy, and Jerry Ross's visionary leadership over the last 16 years has certainly defined the model for leveraging community resources to efficiently deliver small business support to an entire region."
ORLANDO, Fla. (PRWEB) May 25, 2022
The National Entrepreneur Center (NEC) announced today that Jerry Ross has informed the Executive Board of his intent to retire as President of the organization in late 2022, after more than 16 years of service in the role. Ross said he has been extremely grateful for the opportunity to serve Central Florida's business community, and he looks forward to continuing speaking and writing for business audiences nationwide.
Ross was selected in 2007 in a nationwide search to lead the NEC, founded in 2003 through a partnership by Walt Disney World, Orange County Government, and the University of Central Florida. Since then, the center has grown to house 16 business support organizations, and is now funded by 13 community investors, becoming a national model of economic development through small business development. Approximately 15,000 entrepreneurs are coached and trained by the center's resource partners each year, often at no cost to the individual. In November 2021, the NEC launched the BizLink Orange online service, expanding partnerships to over 60 regional organizations whose resources can be accessed digitally from anywhere in Central Florida at BizLinkOrange.com.
Ross, who was named 2022's Florida Small Business Advocate of the Year by the U.S. Small Business Administration, said, "Our proven success is due to the ongoing support of our community leaders along with a strong commitment to the collaborative approach to small business development. When you combine that with a dedicated group of Resource Partners, and an experienced and passionate NEC staff, it is no surprise that our region has become known across the country as a great place to start and grow a business."
Eric Ushkowitz, Economic Development Administrator at Orange County and Executive Board Chair of the National Entrepreneur Center said, "The NEC has become a critical part of our region's overall economic development strategy, and Jerry Ross's visionary leadership over the last 16 years has certainly defined the model for leveraging community resources to efficiently deliver small business support to an entire region."
The Executive Board of the NEC has formed a search committee that will be chaired by Ushkowitz who anticipates interviewing qualified candidates this summer. Ushkowitz noted, "…While it will be difficult to replace Jerry, we are confident that the search process will attract a strong candidate that will insure a smooth transition of leadership for this valuable community asset."
ABOUT THE NEC:
Founded in 2003 through a public-private partnership of municipal, educational, and corporate sponsors, the shared facility and collaborative approach to small business development has attracted national recognition as a model of efficiency and impact for economic development. Resident organizations of the NEC have trained and counseled entrepreneurs and small businesses in record numbers and have created a number of nationally recognized business development programs. This innovative model of efficiency and leverage has been instrumental in Central Florida repeatedly being recognized as one of the best places in America to start and grow a small business.