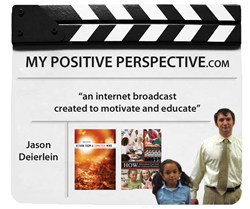 July 4 brings out the best in all of us.
Charleston, SC (PRWEB) July 01, 2014
On June 30, 2014, My Positive Perspective host Jason Deierlein was joined by Advent Designs Founder Michael Waters for an interview. On the episode, Deierlein and Waters talked about the "fireworks and cookout" event that was founded to raise money for God's People. God's People is an organization designed to see the needs around us and fulfill them in any way possible. The event is located at the Pitt Street Bridge in Mount Pleasant and starts at 4 p.m.
Deierlein began the episode asking Waters, "What gave you the idea to organize an event on the fourth of July with this purpose?" Waters answered, "Well you have to have things to do for occasions as special as July 4th, after all the best times are spent with others, and we thought that this day could have a helpful cause associated with it. God's People helps other people who need assistance. This day could then serve an important purpose."
Deierlein then asked Waters, "What sort of items would you like attendants bring?" Waters then says, "We hope to help people who can't afford some of the basic things we ordinarily take for granted. Most of us get to brush our teeth every night, and wash our hands with soap after a long day. Every day necessities such as toiletries, shirts and socks are needed." Deierlein then adds, "How often do we go to Wal-Mart and see these items being sold for fewer than five dollars?" "This organization is not asking for a lot and a pack of socks might not seem like a lot to you, but it certainly does for one who has never worn them."
My Positive Perspective is a media outlet believing that improvement in our community will be best achieved by focusing on the good things happening in our world today. Having survived a near fatal car accident as a youth, a shift of perception forced one to have a mentality of always concentrating on the brighter sides of things. This was true, and in my book, Return From a Comatose Mind, this belief was put to the test. Appreciation for life was the biggest thing one took away from my brush with death, and it is because of that gives me such a huge desire to be helpful to many. My Positive Perspective is a way of overcoming challenges through positive thinking.