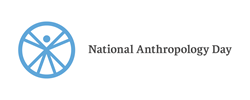 "In a time when we hear great skepticism about science in general, and about social science findings in particular, it is important for our members to showcase their contributions." Dr. Edward Liebow, Executive Director
Arlington, VA (PRWEB) February 19, 2015
On Thursday, February 19, 2015 anthropologists worldwide will celebrate the inaugural National Anthropology Day. This inaugural event, created by the American Anthropological Association, calls public attention to the important work that anthropologists contribute to our daily lives.
Anthropologists are innovators and creative thinkers who contribute to every sector of society. On National Anthropology Day there will be more than 75 schools, museums and organizations worldwide hosting public events to highlight how anthropologists study, discover and tackle the world's most pressing issues.
"This grassroots effort is a first for the American Anthropological Association," said Executive Director, Dr. Edward Liebow, in a recent statement, "In a time when we hear great skepticism about science in general, and about social science findings in particular, it is important for our members to showcase their contributions."

The American Anthropological Association, dedicated to advancing human understanding and addressing the world's most pressing problems since its founding in 1902, is the world's largest professional anthropology organization.
National Anthropology Day participants and media resources: http://bit.ly/NationalAnthropologyDay
Event hashtag: #NationalAnthropologyDay
Edward Liebow, PhD, AAA Executive Director: http://bit.ly/1DxH8wc
Monica Heller, Ph.D., AAA President: http://bit.ly/1xSkxIf