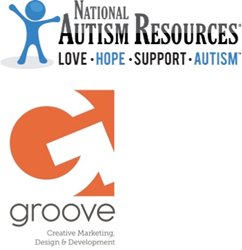 Baltimore, MD (PRWEB) June 02, 2015
National Autism Resource has partnered with Groove, a Baltimore-based creative marketing, web design and development agency, to launch its new website and strategic digital marketing initiative.
National Autism Resources' new website is designed to help parents and educators working with people of all ages diagnosed with autism. The site will expand its product line for the online community and offer an array of resources, from easy to understand information and helpful links to affordable books, games, toys and therapy products.
"When people hear the diagnosis of autism, they tend to become afraid. That fear of loss leads to wanting to buy expensive resources. We are careful about what we sell and our products are offered for a purpose - that is our goal and what makes us different," said Bonnie Arnwine, National Autism Resource Founder. "It was important to launch a site that can break through the noise that has hit the marketplace today and be a safe place for customers to visit."
National Autism Resources currently offers solutions to nearly 100K visitors per month. Under the strategic direction of Groove, the site is expected to experience a significant increase in traffic, helping more parents, therapists, and teachers to navigate, access, and share solutions quickly.
"We know a lot about autism but not web design, user experience, and the eCommerce process. Groove let us stay focused on autism and not the technical stuff," added Arnwine. "Groove took us through the process of understanding our customers and their needs. The agency took a holistic approach and came up with best solution to ensure that the new site targets and serves our customers better, and allows us to help more of our community."
Arnwine started National Autism Resources in 2008. As a mother of an autistic child who was told her son may have to be institutionalized, she used her expertise as a researcher to learn about early intervention therapies that could help her son. Today National Autism Resources provides resources to schools, hospitals, government institutions, and therapy centers in all 50 states and Canada.
About Groove
Founded in 2007, Groove is one of the nation's premier creative marketing, web design and development agencies. Headquartered in Baltimore, MD, Groove delivers digital solutions to small and mid-sized businesses, ranging from eCommerce, web design, inbound marketing, and branding. The growing company has been recognized nationally on the 2013 and 2014 Inc. Magazine "Inc. 5000" list, as an Agency Post "Agency 100," and as a "Best Young Company to Work for" by turnstone. Groove was also named a 2014 "Best Place to Work" in Baltimore by the Baltimore Business Journal, taking first place in the small business category.
Groove has forged partnerships with some of the world's leading software programs like Magento, HubSpot, Bigcommerce, Shopify, and Salesforce.com. The agency is the only Magento Gold Solutions Partner in the tri-state area and the only HubSpot Platinum Partner in Baltimore (one of 16 globally!). To learn more about Groove, visit http://gotgroove.com.
About National Autism Resources
National Autism Resources Inc. is a global leader in providing cost effective, research based therapeutic tools that meet the needs of people on the autism spectrum across their lifespan since 2008. Our tools and adaptive technologies work together to improve skills and significantly decrease impairment. We provide school districts, insurance companies and family members of the autism community with proven tools that improve the independence and quality of life for people on the autism spectrum. We have been certified and licensed by the State of California as a Durable Medical Equipment provider.
We believe in a research based, mosaic approach to intervention. Our unique line of over 1400 products is pulled from over one hundred different vendors to meet the specific therapeutic needs of the autism community and support evidence based therapies. Many of our products have been designed by professionals with years of experience working in the autism community. All of our products have been tested for safety and effectiveness.
We are solely focused on the needs of the autism community and provide the widest selection of evidence based products available. We offer classroom supports, a line for OTs, PTs, SLPs, and ABA therapists and more. For more information, visit http://www.nationalautismresources.com.