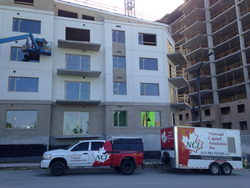 We are delighted to have been selected for this prestigious new development.
Ottawa, ON (PRWEB) July 28, 2016
The Innovation Centre at Bayview yard will house Ottawa's innovation hub for homegrown technology talent, all the more reason to use the latest construction techniques. Following in the footsteps of the MaRS Discovery building in Toronto and Communitech in Waterloo, Ottawa's new innovation centre strives to combine innovation with sustainability. Traits it is hoped will be mirrored by the building's new occupants. According to a recent article in Green Building and Sustainable Strategies Magazine concerning the project "Other features include food growth, a green education program, sustainable transportation provisions, high-energy performance, innovative building automation and control system rooftop solar panels. "
While sustainability is the key for this particular development, it isn't typically top of mind for the majority of NCI's clients. Both commercial and residential customers top priority is reducing energy costs. Superior insulation results in lower heating and cooling bills for the entire lifetime of the property. This has lead to a surge in demand for spray foam insulation in particular. According to Transparency Market Research report worldwide demand for Spray Polyurethane Foam (SPF) has grown at a CAGR (compound annual growth rate of 7%), and this during a period of worldwide recession.
In Ontario the fundamentals are even stronger. With the recently announced Climate Change Action Plan, the Ontario government has set out it's plans to reduce carbon emissions by significantly increasing energy costs (Cap and Trade) and both incentivizing and legislating construction techniques that contribute to a reduction in carbon emissions. Ontarians selling their home will be required to have an energy audit which includes a measure of air infiltration. Air infiltration is significantly affected by the homes air and vapor barrier, of which insulation is a major component. Builders of new homes will be encouraged to construct net zero carbon homes. Industrial and Commercial building construction will be required to meet more stringent building code with long term energy efficiency targets. All of the above are significantly easier to achieve with the use of spray foam insulation. The first of these changes are scheduled for 2017.
As a result of increasing demand for both commercial and residential insulation services, particularly spray foam insulation, NCI has significantly increased capacity. The recent move to new premises (three times the size of our former head office) and expanding our workforce to 14 full time employees are just some examples. NCI are proud to be contributing to the local economy as Ottawa's fastest growing insulation contractor, a far cry from the kick off meeting of the three industry veteran founders in a local Tim Horton's three years ago. NCI are well placed to meet the needs of Ottawa's growing residential and commercial insulation customer base.
About National Capital Insulation
Founded by Wayne Baker, Scott Tennant and Kevin Wallingford in 2013, National Capital Insulation is a full service insulation contractor, specializing in spray foam insulation and serving both commercial and residential customers in Eastern Ontario. NCI is Bauemler approved, CUFCA certified (Canadian Urethane Foam Insulation) as well as being a member of the Ottawa Construction Association.