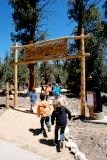 This innovative outdoor classroom was the inspiration of Stacy Gorin, our director of programming. Against a mountain of challenges, Stacy sought the initial funding and rallied the local resources, exclaimed Sarah Miggins, executive director.
Fawnskin, CA (PRWEB) August 14, 2013
The Nature Discovery Zone is designed to inspire creativity, connectivity, and stewardship to the natural environment for children two to seven years of age. Parents are encouraged to explore with their children; there is no fee to enter. This new addition to the Discovery Center features nine interactive areas to encourage outdoor exploration and unstructured play.
The Discovery Center, co-managed by the nonprofit Southern California Mountains Foundation and the U.S. Forest Service, welcomes overs 250,000 visitors annually as a "Gateway to Adventure" in the heart of the San Bernardino National Forest.
"We are so excited to be able to offer this new opportunity to introduce young kids to the wonders of the great outdoors and to help teach them the value of our natural environment," shared Scott Tangenberg, mountaintop district ranger, San Bernardino National Forest.
Educators and mental health professionals worldwide are becoming concerned that many of today's children are no longer able to spend unhurried hours exploring the natural world in the same ways that previous generations enjoyed. Disconnection from nature is leading to increases in problems such as childhood obesity, dislike and even fear of the outdoors, and increased reliance on behavior-regulating medications.
Certified Nature Explore Classrooms help fill the void by integrating research-based outdoor learning opportunities into children's daily lives. Children who learn and grow in Certified Nature Explore Classrooms enhance concentration, develop creativity and problem-solving, relieve stress and improve skills in many areas of development.
"The Southern California Mountains Foundation through its many family-centric and youth development programs has shown tremendous leadership in growing the next generation of environmental stewards," said Susie Wirth, Nature Explore outreach director. "Their commitment to providing research-based and nature-rich learning offers a wonderful example to educators throughout the country."
The Nature Discovery Zone was funded in large part through the generosity of the Employee Community Fund (ECF) of Boeing California and the U.S. Forest Service through their "More Kids in the Woods" foundation grants along with a host of volunteer resources and local donations to complete the installation.
The mission of the Big Bear Discovery Center is to heighten visitor awareness on becoming a more responsible caretaker of a national forest while increasing their enjoyment and knowledge of Southern California's most recreated forestland.
Summer programming includes guided canoe and kayak eco-tours, nature walks, and family-oriented weekend activities. The Center also serves as a community resource center and outdoor classroom for school and youth groups. Music in the Mountains, a summer concert series, is staged at the Discovery Center's Amphitheater as a fund-raising program for local forest restoration initiatives. Visit MountainsFoundation.org for summer scheduling and programming details.