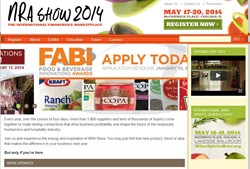 'Education is a key to understanding the benefits to background screening.' - Erik Dahlen, Market Development Manager
Golden, CO (PRWEB) December 23, 2013
USAFact, a leading nationwide provider of pre-employment background screening services for more than 35 years, announced today that it will be exhibiting at the 2014 National Restaurant Association show. The industry has been targeted as one that could benefit from the expanded use of background screening of employees to protect restaurant owners.
"This is an event our sales team is looking forward to attending," said USAFact Market Development Manager Erik Dahlen. "Education is a key to understanding the benefits to background screening. We offer easily implemented and affordably screens to help solve potential issues."
The National Restaurant Association show attracts more than 62,000 attendees – a majority of which would be potential customers for USAFact pre-employment background checks. If the company were to attract only ten percent as leads, that would result in 6,200 new contacts for the company.
"We believe there is a potentially strong return on investment by exhibiting at this show," Davidson said. "I can't wait to see the results from this important employee background screening outreach effort to the restaurant industry."
The National Restaurant Association show takes place May 17-20, 2014 at McCormick Place in Chicago.
About USAFact, Inc.
Successfully operating in the background investigation field for over 35 years, USAFact has been recognized as the hiring solution provider which delivers the most accurate, up to date, and thorough background screens in the industry. As a leading online pre-employment screening service, USAFact combines the latest Internet technologies with the expertise of an experienced professional staff to deliver a proven resource to thousands of clients, processing thousands of reports daily. Offering a variety of screening packages for businesses of any size, from the small non-profit to Fortune 500, USAFact provides services custom-tailored to their individual needs.
For additional information on USAFact's products and services, please visit http://www.usafact.com, or call (800) 547-0263.