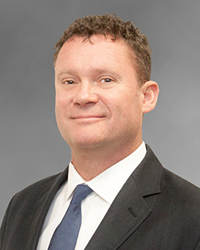 Geoff will make a difference in many areas of our organization. We are very happy to have Geoff join the NRP family. - Dale Tyler, President of NRP
Coppell, TX (PRWEB) July 07, 2016
National Roofing Partners (NRP), Dallas, Texas, the leading network of commercial roofing contractors in North America is proud to announce the addition of Geoff Craft to the NRP team. With over twenty years of roofing industry experience in manufacturing and distribution, Craft will join NRP at an executive level as Vice President of Operations beginning July 5, 2016.
Craft will be responsible for the planning, directing and coordinating of operations for NRP. He will manage daily operations and contractor resources along with planning for financial and human resources. Craft's leadership at both Roofing Supply Group (RSG) and OMG (formerly Olympic Fasteners) offers the perfect complement for running operations for NRPs leading customer service and estimating group along with the national footprint of commercial roofing contractors. With an ongoing focus of providing the highest level of customer service for NRP's national accounts, Crafts experience as the Vice President of Sales at Olympic Fasteners and Senior Vice President at Roofing Supply Group, will provide the leadership and expertise the will propel NRP growth.
Craft's rich history in the industry also includes involvement in the Roofing Alliance for Progress as the first non-contractor President to serve on the board. He has also been very active with NRCA Industry Advisory Board and the Alliance Board of Trustees. With NRP's strong involvement in the Alliance and NRCA, it brings another layer of professional relationships that benefit NRP's contractor footprint and customer base.
"Geoff will make a difference in many areas of our organization. We are very happy to have Geoff join the NRP family" stated Dale Tyler, president of NRP. "We have seen exponential growth and with that, comes the need for ongoing organizational growth and leadership. Geoff's history, knowledge and excellent leadership will be a perfect fit as we grow the NRP business."
About National Roofing Partners
National Roofing Partners (NRP) was founded with the mission of continually improving the facility management capabilities of its customers by analyzing existing roof conditions, recommending and providing high quality single-source roofing replacements and services with dedicated support. Building on the strong expertise of tier one commercial roofing contractors with over 120+ service locations and 8,000 employees nationwide, the network provides exceptional roofing and building envelope service and maintenance for customers. For more information, visit http://www.nationalroofingpartners.com.