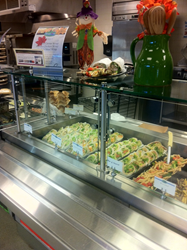 National School Lunch Week highlights the importance of encouraging these healthy eating habits
Islandia, NY (PRWEB) October 13, 2014
National School Lunch Week (NSLW) was created in 1962 by President John F. Kennedy as a way to raise awareness of the benefits of the program and the importance of a balanced meal in students' lives. Since then, many changes have been made to the National School Lunch Program, especially in the past few years as a response to the childhood obesity epidemic that plagues our country.
Whitsons School Nutrition understands that encouraging children to eat healthier foods such as whole grains, fruits and vegetables is a challenging task, and nutrition education is paramount when it comes to changing unhealthy eating behaviors. Therefore, Whitsons has introduced several nutrition education programs aimed at developing healthy eating habits that will last a lifetime. Whitsons' elementary school program, Nutrition Safari, features lovable safari animals that promote all the food groups. These safari characters visit the schools and make nutrition education fun and exciting. On the secondary schools, Whitsons has implemented the Smart Choices program, which not only provides a heathier version of favorite recipes, but also includes educational materials designed especially for the high school and middle school students. Whitsons also offers a Guest Chef program for elementary and secondary schools where a guest chef prepares a special meal and introduces children to tasty new menu items.
This year's NSLW theme is "Get in The Game with School Lunch." This is a very fun topic that emphasizes the need to balance healthy meals with physical activity, and since sports are so popular, this theme will definitely resonate with everyone in the school community. It is also an opportunity to plan for more fun activities in the cafeteria. Whitsons' locations are no exception and are hosting exciting events to celebrate this week.

Spring Valley and Ramapo High School, part of East Ramapo school district in New York, will be hosting a Guest Chef event with Chef Kettley Jeune, who will prepare an Asian Feast on Wednesday, October 15th and Friday, October 17th.
At Phoenixville schools in Pennsylvania, the elementary students will enjoy a visit from Nutrition Safari's Murray the Monkey and Grant the Gazelle who will share with the children their nutrition message.
Also in Pennsylvania, the students at York Suburban schools will "get to know their farmer." Browns Orchards will be conducting tastings of a variety of apple products at the high school and middle school. Tying in with the "Get in the Game" theme and in partnership with the Athletics Department, members of the different high school athletic teams will help serve lunch at the elementary schools.
Gardner High School in Massachusetts will host a special Guest Chef event. Chef Rich Sandmann will prepare delicious made-to-order sushi. The students that participate will also receive a nutrition-themed wristband. There will also be a hot local cider station at the high school. In addition, the elementary schools will host a variety of tastings of new and exciting items such as star fruit, and local fruits such as apples and pears.
These are all examples of how Whitsons promotes and encourages students to develop healthy eating habits, and how schools across the region are celebrating National School Lunch Week with exciting lunch menus and events. According to John Whitcomb, Whitsons' Chief Operations Officer, "It is our mission to help children learn to eat and enjoy foods with the highest nutritional value, and National School Lunch Week highlights the importance of encouraging these healthy eating habits."
# # #
Whitsons Culinary Group provides a wide range of highly customized dining services to public schools, corporations and institutions, with a strong focus on nutritious, high quality menus made from fresh, wholesome ingredients. Whitsons has a long and proud history of excellence and growth since 1979 and currently ranks the 4th largest school nutrition provider in the United States. Whitsons' scope of expertise and services extends to: emergency dining, residential and healthcare dining, prepared meals, and school dining and services.