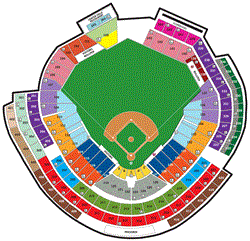 (PRWEB) December 23, 2013
Nationals Park is a baseball stadium, located in Washington, DC, and is home to the Washington Nationals of the MLB. The stadium is primarily used for the baseball team, but has occasionally hosted other events. The following gives information on the stadium's location, parking, Nationals tickets, and more.
Table of Contents
1. Nationals Park Location and Parking
2. Nationals Park Seating Chart
3. Nationals Park surroundings
4. More Information
1. Nationals Ball Park is located in the southeast corridor of Washington, DC at the Anacostia River waterfront. The main method of transportation to the stadium is by metro, although parking options are available. The stadium is in a very convenient location, which is only one block from the Navy Yard – Ballpark metro station on the green line. This station gets very busy on game days, so fans should plan accordingly. This goes for both before, and after the game. Parking at the stadium is quite limited, and costly. There are also other methods of transportation. Those not taking a metro or car can use the Metrobus system or water taxi.
2. Nationals Park Seating Chart – Seating at Nationals Park is available on all levels, and Nationals tickets are for sale at http://www.Ticketmonster.com. At Ticket Monster, fans can choose their seats for the ultimate fan experience at Nationals Park. Fans can choose which level they would like to sit in, and may even request aisle seating if they so choose. The image of the seating chart to the right gives a visual idea of what the stadium looks like, and all the seating options available to Ticket Monster customers.
3. Nationals Park Surroundings. Going to a Washington Nationals game in Washington DC means more than just watching baseball. Right outside of the ball park is an area called, "The Bullpen". This is a great area for fans visiting the park to enjoy a tailgate before entering the stadium. The Bullpen offers food and drinks, a staged area for musical performances, and some fun games! This is the pre and post game scene for all looking for a good time. Before entering the stadium to enjoy a Nationals game, be sure to check out the Bullpen for some cheap eats and good drinks!
4. More Information. Nationals Stadium is a 41,546 seat venue, with a state of the art design. The stadium is actually designed to create an image that recreates the amazing architecture of the city of Washington DC. Each seating area is made differently, to give their own unique viewing experience. Also from different areas in the stadium, fans can see the Washington Monument, Capitol, and other historic landmarks. Nationals Ballpark was made to give fans the ultimate baseball experience. The stadium is equipped with new video and audio technology, as well as a high definition scoreboard and other fan interactive equipment. Nationals ballpark also has multiple bars and food concessions to make fans feel right at home. There is also a Red Porch Bar and restaurant where fans can eat and drink, and continue to watch their favorite team play.
Nationals stadium is clearly a great place for family and friends to enjoy a baseball game and a good time. Ticket Monster helps promote that ultimate fan experience by helping fans easily purchase and receive their tickets. Ticket Monster also has a easy read schedule on the site to help fans pick which game they would like to attend. Finally, fans that visit the site can use the social media fan hub to interact with other Nationals fans about their awesome experience at Nationals ballpark. Visit http://www.Ticketmonster.com for tickets and more information, or call 1-866-217-4777.