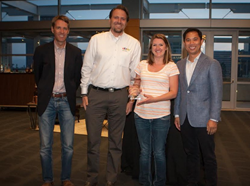 We were honored to receive the only vehicle dealer award presented at the Summit.
OMAHA, Neb (PRWEB) November 22, 2016
National Vehicle, an Omaha, NE based online marketing company specializing in the marketing of privately owned vehicles, is the recipient of the 2015 eBay Vehicles President's Award, given to the single most successful vehicle sales company on the popular auction website.
The award, presented earlier this year at eBay's Seller Summit in San Jose, Calif., recognized National Vehicle as the top managed eBay vehicle dealer. Corrine Sullivan, National Vehicle's Customer Relations Manager, accepted the award in San Jose on behalf of the company. National Vehicle is a top-rated "eBay seller" and maintains a 100 percent customer satisfaction rating.
"We were honored to receive the only vehicle dealer award presented at the Summit," Sullivan, said. "It's a testament to knowing the eBay system and our years of experience serving the private vehicle marketplace, that has helped us ensure customers have a successful selling experience on eBay."
National Vehicle has been helping private owners safely sell automobiles online since 1999, and the company has used eBay as an online auto sales outlet since 2002. As one of just 150 managed dealer accounts nationwide, National Vehicle also credits its success to eBay's efforts to analyze and share best practices in the worldwide marketplace with eBay sellers. Over the years, National Vehicle has expanded its services to include boats, motorcycles, RVs, commercial vehicles, and heavy equipment.
Sullivan explained that there is much more to a vehicle sale than simply finding a buyer and exchanging money for the vehicle. "We provide all the services potential buyers and sellers need to make sure the vehicle transaction happens safely," Sullivan said. "We are affiliated with financing, transport, insurance, escrow, and warranty services that cover every aspect of selling a vehicle—as well as buying a vehicle and having it delivered to your driveway."
This was the first year vehicle dealers participated in the eBay Seller Summit, which Sullivan said reflects the online site's increasing emphasis on its motor division.
About National Vehicle
Since 1999, National Vehicle has helped tens of thousands of private owners safely and successfully buy and sell vehicles through online marketplaces. The company specializes in turnkey marketing packages for private owners who wish to sell special interest, luxury, and classic cars, as well as classic motorcycles, RVs, boats, commercial vehicles, and heavy equipment. In 2009, National Vehicle was listed on the Inc. 5000 list of America's fastest growing companies. Visit the website at nationalvehicle.com