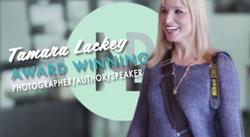 Hunt Valley, Md. (PRWEB) March 18, 2014
Tamara Lackey, renowned professional photographer, author, instructor and international speaker, has partnered with Nations Photo Lab, one of the fastest growing professional photo labs in the country. Together, Lackey and Nations have unveiled an educational webinar series, photography contests and an insightful video series, as well as partnered on many national and international events.
Lackey visited Nations Photo Lab, her first visit to a professional lab, and got hands on with every aspect of the photo product manufacturing process. Nations is housed in a 40,000 square foot, state-of-the-art manufacturing facility in Hunt Valley, MD that employs over 300. During her visit, Lackey answered live chats in customer service, learned about color adjustments in printing, created a photo book and album, hand-stretched canvas, joined the quality control process, and finally, packed and shipped live orders. Her experience is captured in this video!
Together, Nations and Lackey also launched a $500 Nations Dream giveaway for one deserving cause. After culling through hundreds of entries, the $500 prize package was awarded to Hearts for Hailee, an initiative helping battle 5 year old Hailee's battle with an inoperable cancer, rhabdoid sarcoma. Nations and Lackey also have a "Best Emerging Photographer" Flickr photo contest slated for launch this month.
Educational webinars are also a big focus for the Nations collaboration with Tamara Lackey, and the first event was hosted on the Nations Photo Lab Google+ page, where Lackey deconstructed the scene, subject, lighting and vision behind some of her most famous shots. A second educational webinar is planned for April, 2014.
As a renowned teacher and speaker, Lackey participates in workshops, conferences and professional organizations all around the world. She shares her insight as a professional photographer, business owner and marketer, and discusses balancing both work and life. She also showcases how she uses Nations Photo Lab as a resource to better her business. Lackey has spoken and promoted Nations at the following recent events: I Heart Faces Convention in Columbus, OH, PhotoPlus Expo in New York, WPPI (Wedding and Portrait Photographers International) in Las Vegas, with Photoshop World coming up in April in Atlanta.
Together, Nations Photo Lab and Tamara Lackey hope to collaborate expertise on the professional and product side of photography, educating emerging photographers, aspiring pros and professionals alike.
About Nations Photo Lab: Nations Photo Lab, based in Hunt Valley (Baltimore), Md., is a photo lab dedicated to providing professional photo printing services and products to emerging and professional photographers in the United States and internationally. Nations Photo Lab consistently strives to provide the highest quality professional photo printing services to photographers, aspiring photographers, and anyone else in the market for photo prints, books, albums and photo mounting, among other things. For more information on Nations Photo Lab's printing services visit: http://www.nationsphotolab.com/prints.aspx.