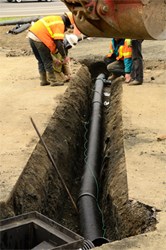 The situation is so bad that the American Society of Civil Engineers (ASCE) gave the drinking water infrastructure a D grade in their 2013 annual US infrastructure report card.
(PRWEB) September 17, 2013
The U.S. Environmental Protection Agency's (EPA), 2013 report on America's drinking water delivery infrastructure states that water systems throughout the United States are nearing the end of their useful life and in need of drastic repair with a price tag of $385 billion. This statement is rather conservative as many active water systems are actually way past their operational lifecycles. The truth is most water pipes in the US are between 50 to 100 years old which is why an average of 240,000 water main breaks occur every year- or 658 a day. The situation is so bad that the American Society of Civil Engineers (ASCE) gave the drinking water infrastructure a D grade in their 2013 annual US infrastructure report card.
Water mains can break anytime of the year, but they happen more often during the winter months as extreme cold can shift the soil and fracture aging pipes. When broken water lines are replaced, contaminants are often introduced into the water supply during the repair process. Most cities will issue "Boil Water Advisories" but these brief warnings are easy to miss and many uninformed people continue to drink and use the contaminated water. For those who boil the water, they are protected from microbial contaminants, however most chemicals, sediment and heavy metals will not be removed. To make matters worse, water companies may also add higher levels of harsh chlorine and chloramines to disinfect the water. With water contamination becoming a very common occurrence, it is more important than ever for people to consider home water filtration system solutions to protect their health.
While there are many types of water purification systems on the market, a reverse osmosis (RO) system is widely regarded by many as the best water filter for producing high quality, safe drinking water. As one of the world's leading RO manufacturers, APEC Water is a pioneer in the design of residential reverse osmosis systems and has been building water filtration systems in the US for over 17 years. APEC's ULTIMATE line of reverse osmosis systems uses select, premium membranes, filters and parts to deliver the highest contaminant rejection rates in the industry, removing up to 99% of the smallest and most difficult to treat pollutants including arsenic, bacteria, chromium, lead, nitrates and viruses, and this is what distinguishes professional-grade reverse osmosis systems from basic filters which are commonly carried in big box stores. They are also effective at removing water additives such as chlorine, chloramines and fluoride as well as their toxic byproducts. APEC reverse osmosis water filters are low-maintenance, easy to install, and will provide an unlimited supply of pure, healthy drinking water that is comparable to expensive bottled waters in quality but with much greater cost savings.
America's water infrastructure has been in decline for years and there are no signs that things will improve much in the near future. Public water delivery systems are not fail-proof and contamination can occur even when the systems are operating properly. From water main contamination, to chemical additives, the quality of tap water continues to be a health concern for many Americans. Home Drinking Water Purification Systems like APEC's ULTIMATE reverse osmosis systems are a smart and viable solution for communities concerned about the quality of their tap and drinking water.
About APEC Water
For over 17 years, APEC has been an industry leading manufacturer of high performance residential and commercial water purification systems. Based out of Southern California, APEC specializes in building the highest quality reverse osmosis drinking water systems and backwashing whole house water filters right here in the USA. The company offers their products exclusively through their website at Freedrinkingwater.com which also provides an extensive water filtration guide and library to the public. To learn more about APEC Water and the Total Solution system, please visit http://www.freedrinkingwater.com or call customer service at 1-800-880-4808 for more information.