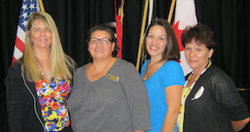 Ramirez helps native people become aware of the differences between traditional native values and the mainstream values that they were forced to adopt during conquest.
Reno, NV (PRWEB) November 06, 2013
President Obama has proclaimed November 2013 Native American Heritage Month; and speaker/author, Laura Ramirez is traveling across the country urging Native Americans to reclaim traditional values in her 2-day speaking engagement, "A Return to Child Stewardship: Parenting with Native American Values."
In the workshop, Ramirez helps native people become aware of the differences between traditional native values and the mainstream values that they were forced to adopt during conquest. She teaches native parents how they can begin to reclaim nurturing values such as stewardship, good medicine and positive discipline strategies and use them to raise strong, healthy children who are centered in their strengths.
In a presentation that evokes laughter as well as tears and even compels audience members to take the mic and share stories, Ramirez urges the importance of this work. "Native Americans have the worst statistics across the board of any ethnic group for high school dropout, teen pregnancy and teen suicide rate." Ramirez believes that she has a solution.
"The problem is that many native people are still suffering from a conquered mentality and the void created when indigenous people were forced to give up their spiritual beliefs during conquest. Generations of native parents didn't teach their children cultural values because they were afraid their children would be punished or taken away to boarding schools. Most natives were born to parents and grandparents who suffered from the intergenerational trauma of this loss. This is a source of dysfunction in American Indian culture," says Laura Ramirez. "The workshop helps Native people feel good about their culture, so they will bring these values home and use them in raising native children."
No stranger to growing up in a dysfunctional home, Ramirez claims that rather than "passing the torch of dysfunction to children, it's our responsibility to embrace nurturing values and teach our children ideas that bring out the best in them." Ramirez did this with her own children and teaches workshop participants how to do the same. Parents leave her workshop proud, inspired and fortified by the knowledge that by incorporating these wisdom teachings, they will raise a generation of children who will rise above current statistics to lead lives of meaning and contribution.
The comments that she receives are a testament to what parents and professionals take away from this workshop. According to one participant, "I've learned more in this native parenting workshop than the last five parenting classes I took put together. I appreciate how Laura puts parenting into a spiritual perspective. She really knows and understands our people."
Comments like this are a big nod for Ramirez. A non-native, she says that she finds herself in "the ironic position of bringing back cultural values to native people." Married to a Pascua Yaqui Native American man, she started researching native culture when she discovered that she was pregnant and learned that in her husband's culture, the woman is seen as the "keeper of the culture".
"While I was doing my research, I found values from the native and mainstream culture that were designed to bring out the best in children and was inspired to put them into a book." That book, Keepers of the Children: Native American Wisdom and Parenting has won five awards, one a coveted Nautilus Gold Book Award from Martha Stewart's company, Omnivision, for books that "promote personal growth and social change." Ramirez's book is used in parenting programs by tribes and bands across the U.S. and Canada and is also used by non-native parents who want to raise their children to grow into strong, centered, self-actualized adults.
As Ramirez takes her work out on the road, this is exactly what she encourages native people to do: look at the values that they were raised with that come at least in part from mainstream culture and ask themselves if they will help create healthy kids. Replace inhumane ideas with cultural values that are more humane. This is true for non-native parents who benefit greatly from her workshops because they are still raising kids with worn out ideas that are neglectful and at least a century old—ideas such as the belief that children should be seen and not heard. According to Ramirez, "Children need to be seen and listened to."
Ramirez believes that her work offers a real solution to the urgent call by Senator Heidi Heitkamp and Senator Lisa Murkowski to form a Commission on Native American Children to address the dire statistics of native kids. Her work provides a strong foundation and culturally appropriate tools to turn things around for native children and their families.
Ms. Ramirez currently offers two seminars, "A Return to Child Stewardship: Parenting with Native American Values" and "Healing the Wounds of Conquest" and can be contacted via the native workshops page on her web site. She is also available for interview.
Laura Ramirez is the mother of two biracial children, Dakotah and Colt and the step-mother of Rion Ramirez who was recently appointed by President Obama to serve on the Commission for White House Fellowships.