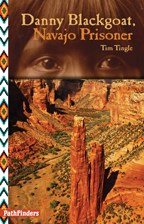 Books that are relevant to their audience can generate a life-long interest in reading...
Summertown, TN (PRWEB) October 29, 2013
Students who find reading to be a challenge often need additional motivation to pick up a book. For Native American students, stories that feature Native teens as main characters can be a lifeline. For teachers, books that acknowledge the contributions of contemporary Native Americans help establish a visibility that has long been absent in classrooms that serve a mix of cultures and races.
The PathFinders novels and nonfiction Native Trailblazers series provide learning tools that fill the needs of schools serving these student populations. Kathie Hanson, 7th Generation's Managing Editor, and John Schweri, Native Voices Sales Manager, have been delighted with the response they have received from different school systems across the country.
The PathFinders novels for reluctant readers offer American Indian youth characters similar to themselves. Written by Native authors, these hi/lo books are at a 4.0 or 4.5 reading level, and feature age-appropriate plots, fast-paced story lines and large text for easy reading. Books that are relevant to their audience can generate a life-long interest in reading, and that's just what the PathFinders aim to do.
Three PathFinders novels, Thunder on the Plains, Tribal Journey, and Little Brother of War are by Cherokee/Choctaw writer and filmmaker Gary Robinson. All address real-life teen issues—often with life-changing consequences—while still incorporating references to traditional Native ways. The newest release, Little Brother of War, received favorable reviews from Kirkus, Publisher's Weekly, and Booklist.
Award-winning Choctaw storyteller and author Tim Tingle based his three-part Danny Blackgoat series on the forced removal of the Navajo people—The Long Walk of 1864. The first book, Danny Blackgoat, Navajo Prisoner was released in June. Danny Blackgoat, Rugged Road to Freedom will be available in February 2014 with the last book and series conclusion due in June 2014. Tim Tingle's great-great grandfather walked the Trail of Tears in 1835, and memories of this family epic fuel his writing and storytelling.
The Native Trailblazers Series—awarded the 2012 American Indian Youth Literature Honor Award from the American Indian Library Association—is perfect for inclusion in American Indian classroom curricula and helps to satisfy the non-fiction curriculum requirements in 5th & 6th grade. Language arts, citizenship, character education, and US history—including strong female role models and Native American culture—are subject areas these books significantly address. Written for juvenile readers, this series features biographies of contemporary American Indians and First Nation Canadians and remind readers of the extraordinary contributions they have offered the greater society. Also written by Native authors, they not only fill the need for quality works about present-day Native people but provide positive role models, accurate cultural content, and information on additional resources.
Although written with the Native student in mind, these books are fascinating reading for all students and will broaden their horizons and understanding of American Indians and who they are today.