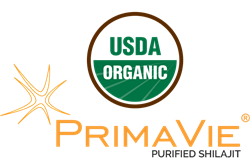 Natreon is committed to providing the highest quality ingredients that meet consumer preference for organic and clean label for supplement, food and beverage products. Having organic certification for PrimaVie® will ensure Natreon continues its leadership in botanical ingredient innovation
New Brunswick, NJ (PRWEB) August 09, 2018
Natreon, Inc., an innovative ingredient supplier known for its patented ingredients derived from nature, announced today the launch of its certified organic PrimaVie® Shilajit. Achieving organic certification makes PrimaVie® the first and only clinically backed organic shilajit available on the market.
"Natreon is committed to providing the highest quality ingredients that meet consumer preference for organic and clean label for supplement, food and beverage products. Having organic certification for PrimaVie® will ensure Natreon continues its leadership in botanical ingredient innovation" said Nicole Stirling, Business Development Manager of Natreon.
PrimaVie® is a Biome Optimized Shilajit™ backed by eight clinical studies to promote energy, endurance, and healthy aging. Considered the greatest rasayana and most potent ingredient in Ayurveda, Shilajit's use dates back to 3000 B.C. PrimaVie® is sourced from distinct biological ecosystems (biomes) and processed using Green Chemistry Principles (water extraction) to achieve an optimal nutrient profile. PrimaVie® is the highest bioactive Shilajit on the market. It consists of Fulvic acid, Urolithins (DBPs), and over 40 micro-minerals, which help promote sports performance, healthy aging and is a potent adaptogen.
For more information or to formulate with PrimaVie®, contact Natreon. Inc., 732.296.1080 or info(at)natreoninc.com
About Natreon, Inc.:
Natreon, Inc. is proud to lead the industry in patented, scientifically validated Ayurvedic botanicals that contain optimal levels of bioactives. Since 1998, this innovative New Jersey-based company has been bringing the public exciting natural ingredients through partners in the food and beverage, dietary supplement, medical food and personal care industries. Natreon is focused on developing breakthrough botanical products that are backed by science. It works with a state-of-the-art research and development facility in India and performs high-quality clinical and safety studies to ensure the standardization and effectiveness of its products. Stay up to date with new research and products by following Natreon on LinkedIn linkedin.com/natreon-inc.
For further information please contact:
Dr. Sanni Raju, CEO/Chairman or Bruce Brown, President
2-D Janine Place
New Brunswick, NJ 08901
732-296-1080