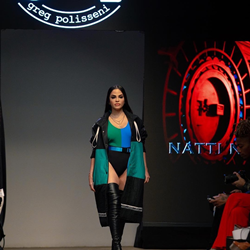 "Our goal is to put on a show that people are going to talk about," said Polisseni. "This collection was based off a painting that I created called Harmony, the inspiration came from the idea of creating balance in art, fashion and in life."
NEW YORK (PRWEB) February 11, 2019
Last night, Artistix Fashion presented their F/W 2019 collection, titled Harmony, at New York Fashion Week at Industria Studio Ten. The runway-style presentation included fifteen women's looks as well as twelve men's looks. The afterparty was directly to follow the show at Tao Downtown and was hosted by celebrity DJ Sophia Body.
This was the seventh time that Artistix showed at New York Fashion Week, previously presenting at noteworthy locations such as Cedar Lake Theatre, The Jane Hotel and the Skylark at Moynihan Station. The brand, which now sells at Macy's nationwide, has become widely recognized for combining abstract art with vibrant color palettes to create unmistakable looks such as their signature camo print.
"Our goal is to put on a show that people are going to talk about," said Polisseni. "This collection was based off a painting that I created called Harmony, the inspiration came from the idea of creating balance in art, fashion and in life."
The show was invitation only and housed major celebrities such as Bianca Bonnie and Renny, both walking the runway for the brand. Previous shows were attended by Tommy Hilfiger, Lala Anthony Shiggy, Karrueche, Tim Hardaway Jr., Marky Ramone, Grand Puba and more. The hair team was lead by Massimo DiCicco at Salon Firefly and product was provided by R+Co. The makeup was provided by Metro Look, lead by master stylist T. Cooper while the shoes were provided by Reebok and nails were done by Yukie Natori. Other show sponsors included Essentia Water and Tao Downtown.
"Our shows are about mixing music, art, and pop culture," said Hilfiger. "Each season is about having fun and creating something new and exciting. This season, we featured an adventure theme which included moto inspired outerwear pieces and reflective accents."
Throughout his years producing major fashion shows, Andy is known for introducing industry legends Continuing with his vision of showcasing a diverse and inclusive runway, this season Andy introduced Latin superstar and most-watched female artist on Youtube, Natti Natasha to the New York Fashion Week runway. Natti closed the show strutting down the runway to her most recent single, "Pa' Mala Yo."
The collection included key pieces such as a puffy nylon jacket printed in Artistix Harmony camo print, as well as versatile women's bodysuits and faux fur jackets. The full collection will be available for purchase in-store and online at Macy's as well as http://www.artistixfashion.com beginning fall 2019.
To request images from the show or to interview Andy and Greg, please contact:
Giana Elenterio
gelenterio@artistixfashion.com
212-398-3845
To view, all of the runways looks, please click here. To view photos from backstage, click here. Watch the runway here.
About ARTISTIX Fashion:
A unique clothing brand founded by artist Greg Polisseni in the Fall of 2013. Greg has found passion in his artwork since childhood by creating original paintings that serve as the inspiration for his fashion lines. ARTISTIX has become a way for him to express his art, design, and creativity not only on a canvas but on clothing as well. The goal of the brand is to bring a fun, edgy, and a distinctive vibe to our clothing that complements your personal style.
About Greg Polisseni:
Greg Polisseni is an artist, fashion designer and visionary. Greg created ARTISTIX in the Fall of 2013 with one clear vision in mind, to create wearable art. Throughout his entire life, Greg has found art as a way of self-expression and wanted to offer the same outlet to consumers. Each of ARTISTIX unique collections is based on an original painting by Greg, making each piece of clothing a collectible item.
About Andy Hilfiger:
Andy Hilfiger joined as the Creative Director of ARTISTIX Fashion in April of 2016 with the vision of elevating the brand to the next level. Andy, whose previous ventures include the launch of the JLo brand Sweetface, the Adam Levine collection and the Nicki Minaj collection, embodies the idea of merging music, art, and fashion. With over 30 years of experience in the fashion industry, including his time at Tommy Hilfiger, Andy believes that ARTISTIX is the next big thing in the luxury streetwear culture. Learn more at http://www.andyhilfiger.com.