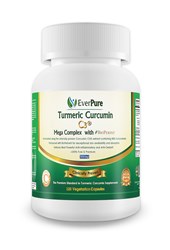 Turmeric Curcumin provides spectacular inflammation relief ... Everpure's Turmeric Capsules let me train more days and with heavier weights so I was able to reach my goal.
New York, NY (PRWEB) November 28, 2013
Everpure, a company dedicated to improving the health of people around the world, recently announced its decision to offer a 20-percent discount on its Turmeric Curcumin capsules. To apply the limited-time holiday discount, customers only need to enter the code "AWSOME20" at checkout.
Each bottle of Everpure's Curcumin C3(R) Mega Complex contains 120 pure vegetarian capsules. The product has no gluten, milk, peanuts, shellfish, or soy in addition to containing no additives, preservatives, or fillers. The capsules are enhanced with patented Bioperine to ensure bio-availability and absorption.
According to a guide published by the University of Maryland, http://umm.edu/health/medical/altmed/herb/turmeric, Turmeric Curcumin is one of the oldest anti-inflammatory agents in natural medicine. Turmeric Curcumin is derived from the stems of the plant Curcuma longa, a member of the ginger family. For centuries, Chinese and Indian doctors have used Turmeric Curcumin to treat a variety of conditions such as flatulence, jaundice, menstrual difficulties, inflammation, rheumatoid arthritis, joint pain, Alzheimer's, and killing cancer cells.
There are several Turmeric Reviews available on the company's Amazon webpage, Many customers who have used Everpure's Turmeric Curcumin capsules as a Natural Anti-Inflammatory have reported positive results.
"I have been heavily into fitness for the last 15 years and it has been wreaking havoc on my joints because it causes inflammation in my joints," said Dmitry Godzin in his review of the product. "Turmeric Curcumin provides spectacular inflammation relief: a few weeks ago I hit a New York State record in powerlifting and my joints feel great. Everpure's Turmeric Capsules let me train more days and with heavier weights so I was able to reach my goal."
Individuals interested in learning more about Everpure and its promotion can visit the company's Amazon storefront for more information. All of the company's products are manufactured in the USA using all natural ingredients.
About Everpure:
Everpure is a company started by holistic nutritionists, personal trainers and health crusaders in order to improve the lives of their clients and the people in their world. The company's goal is to help as many people as possible become pain free and vibrantly healthy. Everpure has been in the health business for the last 10 years in many different ways, including personal training, martial arts, holistic nutrition, seminars and mentorship programs. For more information, please visit http://www.amazon.com/gp/product/B00EBG2FT8.