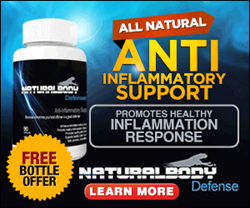 Natural Body Defense is now available with one month extra supply as a new year special offer.
Los Angeles, CA (PRWEB) January 16, 2014
When any part of the body gets inflamed, major diseases start to develop. Whether in traditional or modern medicine, inflammation is a symptom that has to be addressed immediately. Doing so will keep the body well within the predetermined safe and healthy level.
Natural Body Defense is a new supplement that provides anti-inflammatory support, promotes a healthier inflammation response, and ensures the correct functions of the brain and joints. It is safe, effective, and very powerful. It is highly recommended for men who are past their prime, although women may use it too.
Click here to visit the official website of Natural Body Defense.
The body parts commonly affected by inflammation are the joints, a condition that is more commonly known as rheumatism. However, not everybody knows that all organs can be affected by inflammation too. And because there are a lot of factors that could contribute to this condition, the best line of defense is to boost the body's response system so it can handle all threats accordingly.
To provide the body with an improved defense system, the use of potent herbs known to contain immunity boosters is strongly advised. Such natural ingredients can help improve the body's resistance against inflammation. And these are what Natural Body Defense contains. Its list of ingredients includes Boswellia Serrata extract, Bromelain extract, Turmeric extract, Ginger extract, and Quercetin and Rutin.
Boswellia Serrata extract contains strong anti-inflammatory enzymes. Bromelain extract improves the body's ability to inhibit platelet aggregation. Turmeric extract is a powerful antioxidant that stimulates the body's reaction to histamine. Ginger extract inhibits the synthesis of prostaglandin, which is a pro-inflammatory substance. Quercetin and rutin are antioxidants that can inhibit inflammation.
Click here to visit the official website of Natural Body Defense.
Without excessive inflammation, the body's prime condition is preserved and the risks of acquiring a disease are reduced. While inflammation is also highly associated with muscle training and bodybuilding, too much of it can produce negative results. Workouts inflame the muscles as they make them big and strong. When inflammation becomes chronic, recovering from a workout becomes slower, and injuries get common.
Natural Body Defense assures that these things don't happen. It works by stabilizing inflammation, promoting a healthier aging process, and protecting the joints and bones. Natural Body Defense is offered with a 100% satisfaction guarantee and is currently offered in special packages. However, the supplement comes in a limited supply right now, mainly because of the exclusivity of its natural ingredients. To know how to order Natural Body Defense, visit the product's official website at http://goo.gl/94ij8P.