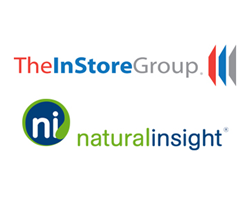 Washington, D.C./Pineville, N.C. (PRWEB) June 18, 2014
Natural Insight today announced that The InStore Group, a national retail advisory and retail merchandising service company, has selected its cloud-based workforce management software to organize, schedule, manage and analyze teams of people executing innovative retail merchandising programs across America.
Founded by Thomas Palombo, the former owner of Merchandising Corporation of America (MCA), The InStore Group is led by an experienced and talented executive team with a passion for operational excellence and delivering outstanding results on behalf of clients.
"I've been in the merchandising business for many years and I've learned first hand that superior retail execution requires a combination of great people, expert processes and innovative technology," said Tom Palombo. "We selected Natural Insight because their technology does an amazing job of automating our scheduling, task management, time keeping, and reporting processes – which allows our management team to focus 100% of our energy on satisfying our clients."
"Tom Palombo and his team are proven players in the merchandising industry and together they have an impressive history of producing great results for clients," said Stefan Midford, president and CEO of Natural Insight. "We're honored that The InStore Group chose Natural Insight as their technology partner and we look forward to supporting them with our world-class workforce management platform as they continue to grow."
About Natural Insight:
Supporting 40,000 skilled professionals in more than 70,000 locations across North America Natural Insight is a leading provider of cloud-based workforce management software to merchandisers, product companies, event marketers and retailers. Natural Insight is privately held and headquartered in Sterling, VA with offices in Toronto and Birmingham, England. Visit http://www.naturalinsight.com or read the blog.
About The InStore Group:
The InStore Group is one of America's leading a full-service retail merchandising and product demonstrations organization. For over 18 years, we have focused exclusively on providing our InStore services to leading consumer packaged companies and major retailers in multiple channels throughout all 50 states and territories.