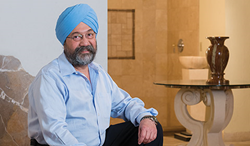 We have a very good reputation. We're happy. We love doing what we do, both Ameeta and I.
Brisbane, CA (PRWEB) April 11, 2014
Climbing to the top takes hard work and dedication, and business owner Dilmohan Chadha is ready to share with other entrepreneurs how he made his climb a successful one. Dilmohan Chadha, owner of Integrated Resource Group, was recently featured in an issue of GGU Magazine in which he talked about the business and how it has grown to be what it is today.
When first starting in 1986, Dilmohan Chadha intended on creating a trading company with no fixed products. He worked with all kinds of items from agricultural to leather. Today, Integrated Resources Group (IRG) is a large stone supplier with two office and showroom locations in Brisbane, CA and Dublin, CA. IRG imports, sells and markets a wide range of stone from around the world including granite, marble, limestone, soap stone, onyx and other surfacing alternatives like Pental Quartz.
Chadha received his MBA from the University of Kentucky and moved to GGU to earn his master's in accounting. After joining Wells Fargo, Chadha started out as a credit analyst, and worked his way into commercial banking and mid-market, and he became vice president in the commercial lending group.
"I come from a family that has been in the trading business, so that was always in my genes," says Chadha. "But I wanted to see what it would take to progress and climb up the corporate ladder. It seemed to me that with the same amount of time and effort, I could do something for myself. "
From there on, he made business a priority, utilized his education and experience in financing and worked hard to create Integrated Resource Group. After coming across many economical downturns throughout the '90s and facing varying market trends and challenges, Dilmohan Chadha and his clientele have found Integrated Resources Group to be the premier stone supplier in the Bay Area.
"We have a very good reputation. We're happy. We love doing what we do, both Ameeta and I," says Chadha. Today, Integrated Resources Group has 25 employees, including Chadha and his wife, Ameeta, and their people-loving dog, Ruckus.
Take a look at what Chadha had to say about his business and the advice he has for new small businesses by viewing the article at http://ggumagazine.com/?p=869.
About the Company:
Integrated Resources Group offers the largest selection of natural stone in the San Francisco Bay Area. The family-owned business started as a trading company in 1986 dealing in agricultural products, canned food, apparel and natural stone. With a growing reputation for its high-quality natural stone and excellent service, the company relocated the business to a vast warehouse and showroom in Brisbane, where they now carry more than 250 types of stone. The company opened a second showroom and warehouse in Dublin to service East Bay customers. Its products include stone, exotics, glass tile, engineered stone and more. For information on the products and services of Integrated Resources Group, the Bay Area's marble and granite company, call 415-657-0280 or visit http://marblecompany.com/ or come into either of their two locations.