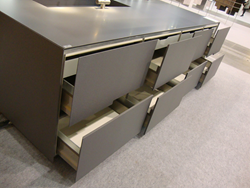 Brisbane, CA (PRWEB) March 21, 2014
Designed and developed in Italy, which explains its universal style and design quality appeal, Integrated Resources Group is the now exclusive Northern California supplier for the new engineered stone product Lapitech.
Lapitech's unique patented surfacing technique results in a material that is tolerant to high temperatures, is unaffected by moisture and is resistant to UV lights, acids and alkalis. Lapitech is also extremely hard, so it resists scratching, abrasion and everyday wear and tear as well as being bacterial resistant. These superlative properties make it the perfect choice for commercial and high-end sleek domestic use.
Composed of 100 percent mineral with no resin or binder components, Lapitech is offered in a wide range of colors and hues, especially the type of earthy tones so popular today which mimic the hues of nature. Applications include interior and exterior cladding, kitchen and bath surfaces and exterior paving.
Integrated Resources Group offers the largest in-stock natural stone and engineered stone selection in the Bay Area. As the largest and most diverse Northern California stone supplier, IRG offers a wide selection of marble, granite, limestone, onyx and soapstone slabs, as well as designer tile lines and alternative surfacing.
Visit IRG's showrooms in Dublin and Brisbane. For more information, call 415-657-0280 or visit http://marblecompany.com/.
About the Company:
Integrated Resources Group offers the largest selection of natural stone in the San Francisco Bay Area. The family-owned business started as a trading company in 1986 dealing in agricultural products, canned food, apparel and natural stone. With a growing reputation for its high-quality natural stone and excellent service, the company relocated the business to a vast warehouse and showroom in Brisbane, where they now carry more than 250 types of stone. The company opened a second showroom and warehouse in Dublin to service East Bay customers. Its products include stone, exotics, glass tile, engineered stone and more. For information on the products and services of Integrated Resources Group, the Bay Area's marble and granite company, call 415-657-0280 or visit http://marblecompany.com/ or come into either of their two locations.