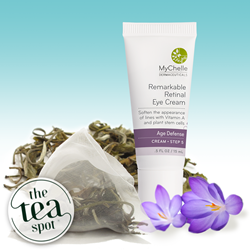 Denver, CO (PRWEB) April 22, 2015
In recognition of Earth Day 2015, The Tea Spot and MyChelle Dermaceuticals (MyChelle) are offering dual product promotions to get more people outdoors. Beginning today, the online tea retailer is offering 25%-off all single-serving teas and travel tea gear, plus orders will ship with samples of MyChelle anti-aging sun protection products. Concurrently, the natural skin care company will package all online orders with premium tea samples and a coupon for a future online purchase from The Tea Spot. The promotional period extends through May. The Colorado-based companies are regarded for their dedication to clean, sustainable products and philanthropic practices.
Taking Tea Into the Great Outdoors
Low in caffeine and high in antioxidants, tea is an ideal beverage for staying hydrated while enjoying a variety of outdoor activities. Throughout the Earth Day promotion, The Tea Spot is offering 25% off its best-selling travel-friendly tea accessories. Use the online code OUTSIDE4EARTHDAY at checkout. The promotion includes:

Steep & Go Cold Brew Bottles – travel bottles with filters for making fresh, loose-leaf iced tea
Cold Infusions – single-serving loose teas formulated to cold brew within 10 minutes
Tuffy Steepers – a travel tea infusers for steeping loose leaf tea in standard-sized mugs
Biodegradable pyramid tea sachets for single-serve hot or cold brewed whole leaf teas
Sun Protection, Naturally
MyChelle encourages living a healthy, active lifestyle indoors and out. The company sells several top-rated broad-spectrum SPF/UV sun protection products beginning Earth Day, offering special pricing to encourage more people to develop and practice safe skin care routines. Throughout May and June, ALL all MyChelle online orders will include premium tea sachet samples from The Tea Spot and a special sample of The Tea Spot's Organic Monkey-Picked White, a premium white peony tea.
About The Tea Spot
The Tea Spot is a leading producer of handcrafted whole leaf teas and the creator of Steepware®—innovative tools that make the premium tea experience effortless and accessible. The company's focus has held steadfast since the for-profit philanthropic company was founded by Maria Uspenski in 2004, a cancer survivor drawn to the health benefits of leaf tea during her recovery. Her message is simple and powerful: tea in its freshest form renders premium flavor, unmatched health benefits, and is eco-friendly. The Tea Spot's philanthropic 10% Pledge incorporates its mission to foster health and wellness through loose leaf tea. Ten percent of the company's profits are donated in-kind to cancer and community wellness programs. The Tea Spot is a Colorado-based Certified B Corporation, woman-owned and operated business. Learn more at theteaspot.com
About MyChelle Dermaceuticals
The pioneer in clean, bioactive skin care, MyChelle Dermaceuticals revolutionized the natural beauty industry in 2000 as the first company to use anti-aging peptides, plant stem cells and clinically proven dermatological ingredients for guaranteed visible results. Sustainable manufacturing practices and charitable pursuits support a full line of highly effective cleansers, moisturizers, serums, nourishing creams, and sun protection. Learn more at mychelle.com