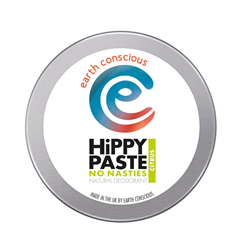 "I've tried literally dozens of healthy deodorants, including making my own. Some were too messy, some didn't work very well, others were too expensive. This stuff is super easy to apply, works extremely. Winner.
(PRWEB UK) 28 March 2016
Rebecca Goodyear, Natural & Organic Beauty expert and founder of Biteable Beauty announced this year's winners in March.
It's fantastic news for the Earth Conscious brand to have won the Biteable Best of Beauty Award for Best Deodorant 2016 with Hippy Paste, a 100% natural organic deodorant. Hippy Paste is packaged in a sleek recyclable tin making it the best eco friendly deodorant too.
The Earth Conscious brand are thrilled to have won Best Deodorant category with the founders, Angela and Elly commenting "We were delighted to receive Rebecca's email informing us that we'd won the Biteable Beauty Award for Best Deodorant. What a lovely surprise! We're just regular women working incredibly hard to ensure that our deodorant remains totally natural and eco friendly and lives up to the best deodorant award! It genuinely works and is priced so everyone can make the switch from antiperspirant to a healthier deodorant. Our aim is encourage everyone to feel empowered to make those changes."
Hippy Paste is made with 100% natural organic ingredients and is of course aluminium free, paraben free and cruelty free. Due to its tin packaging, it travels incredibly well making it perfect for everyday use - just pop it in your bag and away you go. Hippy Paste is ideal for travelling, camping and festivals too, so go check it out and Release the Hippy in you.