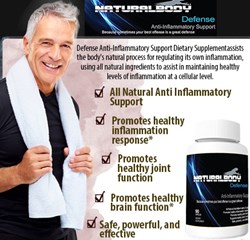 Characterized by an influx of white blood cells, redness, heat, swelling, pain, and dysfunction of the organs involved, inflammation has different names when it appears in different parts of the body.
(PRWEB) August 30, 2013
Natural body Defense Anti-inflammatory support is the new herbal supplement recently launched in the market. The product contains all the herbal ingredients and specially prepared for the purpose to maintain the inflammatory process at a proper level. The product has gone through various clinical trials and found highly effective for what it is prepared. Since it is natural therefore it has no negative side effects on health and is completely safe for the use. It has gained the approval of health experts and now it is available for the online purchase.
Visit Official Website of Natural Body Defense Anti-inflammatory support
According to the medical studies, Inflammation is the activation of immune system in response to an injury, infection or irritation. It can affect all the major organs. It mainly appears in redness, swelling, pain or dysfunction of the organ involved, inflammation can occur on different body parts. The immune system triggers inflammation to help fight infection or heal injury but sometimes inflammation goes to abnormal level which leads to prevalent diseases and disorders.
Therefore, maintaining inflammatory process at healthy level is important for proper joint functions.
Health researchers, who have been working on natural herbs, found that phytochemicals in some herbs and spices can safely promote a healthy inflammation process. Experts conducted various clinical trials on such herbs and utilized them to prepare a natural Anti-inflammatory supplement. Natural body Defense Anti-inflammatory support has clinically proven highly effective yet the completely safe to maintain the inflammatory process at a proper level and helps to maintain a healthy well-being.
The active ingredients of this natural supplement include BoswelliaSerrata Extracts, Bromelain Extracts, Curcumin (Turmeric) Extracts, Ginger Extracts, Quercetin and Rutin. All these ingredients were tested clinically before using in the preparation of the product. Boswellia Serrata Extracts are found effective to modulate the pro-inflammatory enzyme, while the other ingredients help to inhibit the pro-inflammatory substances. Clinical trials have verified the claims about the product as true and health experts have also approved the product as highly effective yet the safe for use. However, new customers can read more about the product at the official website before using it.
Visit http://mhlnk.com/DE02E291 to read more information on Natural Body Defense