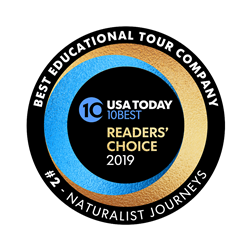 Nothing could be more uplifting than to have our work nominated, and then voted on by our loyal and wonderful clients who continue to travel with us again and again.
PORTAL, Ariz. (PRWEB) November 05, 2019
On November 1, 2019, USA Today announced the 10BEST Readers' Choice Travel Awards 2019 winners for Best Educational Tour Company. Naturalist Journeys, a top nature and birding tour company based in Portal, Ariz., is pleased to announce it has placed second in the publication's national contest.
It was after a month-long trip to Africa that owner and lead guide of Naturalist Journeys, Peg Abbott, learned her business had been chosen by USA Today 10BEST as a Best Educational Tour Company nominee. As a small company, Abbott and her team were surprised yet overjoyed just to be nominated. Now that the results are in and Naturalist Journeys has placed second in the nation, those emotions only continue.
"Nothing could be more uplifting than to have our work nominated, and then voted on by our loyal and wonderful clients who continue to travel with us again and again," says Abbott. "We already love what we do, but the whole USA TODAY 10Best process has blown us away. The heartwarming response of joy and pride everyone shared has renewed my own enthusiasm and commitment to our work."
The 10BEST division of USA Today is comprised of travel experts who provide readers with unbiased travel advice they can trust. Through the annual Readers' Choice Travel Awards, these experts spotlight some of the country's best food, lodging, destinations, travel gear, and more by selecting 20 nominees for a given category. Once the nominees are chosen, 10BEST turns voting over to the readers who are then charged with narrowing the list down to the top 10 businesses of that selected category.
Companies included in the Best Educational Tour Company category are described as ones that take learning on the road with itineraries focused on culture, history, archeology, architecture, and science. As noted in the contest description, such tours are most ideal for curious travelers who crave immersive experiences and detailed knowledge of the destinations they visit.
In Abbott's opinion, educational travel is the best path society has to positive human connection and the future of the natural world.
"We specialize in birding and wildlife travel, with education and conservation at our core," she states. "Knowing that this model of trip planning and the experiences we've helped create over the last 20-plus years are treasured by our clients is truly enduring. The USA Today 10Best competition has helped me to personally recognize that I have created a legacy with this company, and I'm inspired to make sure it continues well into the future. I have a fantastic team and know they have all earned this. Many thanks to them for their dedication and trust."
Abbott and the Naturalist Journeys team are immensely grateful for those who have traveled with and supported them over the years and throughout this contest. With the exposure that comes with ranking at the top of this year's USA Today 10BEST list for Best Educational Tour Company, the guides at Naturalist Journeys look forward to sharing their passion for nature with even more travelers on the road ahead.
Naturalist Journeys is an Arizona-based company offering nature and birding tours for small groups to destinations worldwide. Travelers stay at serene eco-lodges and are joined by expert guides with experience in fields of birding, geology, ecology, and local culture.