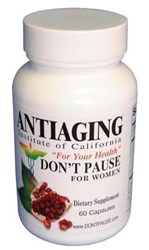 Beverly Hills, CA (PRWEB) October 18, 2013
A natural menopause cure may be an effective solution for menopause-related weight gain. Weight gain during menopause is extremely common. Two-thirds of menopausal women are either overweight or obese. Unfortunately, excess weight can trigger or exacerbate serious health problems that include cardiovascular disease and Type 2 diabetes. Weight gain can also affect a woman's self-image and may even interfere with her ability to engage in her favorite activities. Women who maintain a healthy weight have a reduced risk of these conditions and may even suffer fewer menopause-related symptoms. AntiAging Institute of California is now offering DON'T PAUSE to help women with battling weight gain as a result of menopause.
Women who are overweight or obese when they enter menopause may be at a greater risk of weight gain than those who are at a healthy weight. Women who are sedentary or who eat an unhealthy diet are also at an increased risk. Strength training twice a week and engaging in moderate intensity aerobic exercise can help women maintain their weights. A balanced diet with lean protein, low-fat dairy products, whole grains, fruits and vegetables can ensure women have the nutrients they need during this physically stressful time.
Natural menopause treatment products can contain a single ingredient or a special combination of ingredients. They are often designed to balance hormones, which tend to fluctuate significantly particularly during perimenopause, the period immediately before menopause. Estrogen is a hormone that stimulates the growth of the endometrium, and helps regulate weight. When estrogen levels decrease during menopause, the menstrual cycle stops and the metabolic rate can slow. Products that are designed to provide menopause relief by restoring or balancing hormone levels can help women maintain a healthier metabolism and reduce their weight gain.
The AntiAging Institute of California offers a range of natural treatments, including DON'T PAUSE. DON'T PAUSE has been designed to act as a menopause remedy. It contains a proprietary blend of herbal and natural ingredients that can help balance hormones, boost energy levels and maintain metabolism. The special ingredient formula can help combat some of the most common symptoms of menopause, including weight gain, irritability, menstrual irregularities, breast tenderness and thinning hair.
Website: http://www.menopauseguide.com