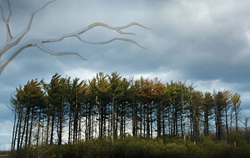 So far, with the Natural Power Initiative, we've prevented the emission of an estimated 71,961 metric tons of greenhouse gases into the atmosphere to help fight climate change
Carlsbad, CA (PRWEB) May 14, 2014
PrAna has worked to reduce its electricity consumption and replace its main energy source with wind power since 2005, helping to reduce harmful emissions that contribute to climate change and exceeding its own expectations for success.
"Very early on at prAna, there was this energy around doing things in a more sustainable way," said prAna's founder, Beaver Theodosakis. "So we focused on some key concepts and asked ourselves, 'how can we take wind power — because prAna means breath — and make a positive change?'"
PrAna began by tracking and measuring its electrical energy use at its California headquarters, the flagship store in Boulder, Colorado, at over 200 retail stores that carry prAna products, and in the homes of its employees. It also keeps track of emissions from company vehicles, business travel and its employees' commuting.
The next step of the initiative was to reduce energy consumption. PrAna had its head office and distribution center audited for energy use and it has worked to educate its employees and create a culture of conservation.
Using Renewable Energy Certificates — or RECs — prAna then committed to "greening" the power use it tracked and measured. With that figure, it invested in RECs representing the generation and delivery of wind power to the grid equal to that amount of electricity.
"So far, with the Natural Power Initiative, we've prevented the emission of an estimated 71,961 metric tons of greenhouse gases into the atmosphere to help fight climate change," said Theodosakis. "That's like removing 13,180 cars off the road or protecting 16,355 acres of forest."
For prAna's efforts, it was awarded the EPA's Green Power Leadership Award in 2006 and it continues to build on that progress today. Many of its customers, partners, and industry peers are now also measuring their carbon footprints, implementing energy efficiency initiatives, and using RECs to lower the environmental impact of their operations.
"We wanted to be able to stand for one thing, be known for it, and be an authority it on," said Theodosakis. "We learned all we could about wind power and shared that information with other companies as well because we know there's even more we can do by working together for positive change."
To find out more the Natural Power Initiative, calculate your own energy usage or learn how to educate others on renewable sources of electricity, visit prAna.com.
About prAna
PrAna is a lifestyle brand that draws its name from the ancient Sanskrit word for breath, life and vitality of the spirit. Born from climbing and yoga, the prAna team creates mindfully-designed, purposeful and stylish apparel for free spirited people to pursue their passions on the water, mat, rock, trail, and street. From its beginning in 1993, prAna has been committed to weaving sustainable practices into its operations and supply chain, working to reduce its impact on soils, water supplies and other natural resources while promoting conservation. PrAna is also conscious of its impact on communities and has worked to include a growing number of fair trade styles every year. It is the first apparel company in North America to offer Fair Trade USA certified products and accessories. PrAna is sold in five flagship stores, online at prana.com, and in 1,400 specialty retailers across the US, Canada, Europe and Asia.
For a list of prAna retailers, please visit http://www.prana.com/dealer-locator.html.
Find @prAna on Facebook, Twitter and Instagram.