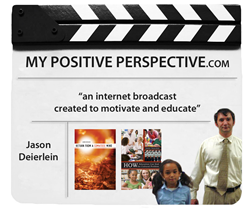 Charleston, SC (PRWEB) April 15, 2014
On April 14, 2014, My Positive Perspective host Jason Deierlein was joined by On Purpose Adventure founder Ben Jammin Toy for an episode that reflected the importance of nature conservation and proper environmental actions. The episode holds greater emphasis since Charleston is a coastal city and much of the city's area is around sea level.
At the start of the episode, Deierlein says, "On today's episode is Ben Toy who is here to tell us about an event coming to Riverfront Park." Toy begins, "Charleston County is hosting their 15th annual Earth Day celebration. They want to bring attention to what this great area is doing for conservation and the environmental issues. The festival is on April 26 from 11 am-4 pm."
When asked what sort of things to expect at the event, Toy said, "Expect to see the birds of prey and reptile exhibits. It's a picturesque park right over the water." Toy then adds, "I've learned a lot from being a kayak guide at nature adventures on Shem Creek. In some areas of the coast, we are actually gaining marsh land back as a result of all the conservation efforts from business owners in the Charleston area."
My Positive Perspective is a media outlet believing that improvement in our community will be best achieved by focusing on the good things happening in our world today. Having survived a near fatal car accident as a youth, a shift of perception forced one to have a mentality of always concentrating on the brighter sides of things. This was true, and in my book, Return From a Comatose Mind, this belief was put to the test. Appreciation for life was the biggest thing one took away from my brush with death, and it is because of that gives me such a huge desire to be helpful to many. My Positive Perspective is a way of overcoming challenges through positive thinking.