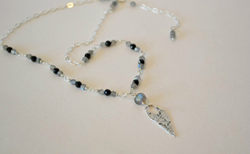 Labradorite signifies strength, clarity and luck...
Denver, Colorado (PRWEB) December 05, 2014
Nature's Splendour® by Elizabeth Pings (http://www.NaturesSplendour.etsy.com), known for its glittering Black Spinel jewelry designs, is pleased to announce actress Emily C. Chang (playing character Ivy) wore its Labradorite and Black Spinel Dagger Heart Necklace during episode 605 of The Vampire Diaries. The episode, titled "The World Has Turned and Left Me Here," aired Thursday, October 30, 2014 on The CW Network.
The wardrobe stylists for The Vampire Diaries selected the handcrafted Dagger Heart Necklace for use after receiving it in a Stylist Gift Bag from The Artisan Group®. The Artisan Group is a California-based arts promotion and celebrity gifting organization, of which Nature's Splendour® designer/founder Elizabeth Pings is a member.
The Dagger Heart Necklace showcases a gleaming sterling silver dagger style heart, which hangs on a stunning Labradorite, Black Spinel and sterling silver chain.
Elizabeth says she designed the Dagger Heart Necklace to show well on the small screen and be appropriate for many different looks. She notes, "I didn't know who would be wearing the piece so I wanted it to be versatile. Also, I thought the set lighting would bring out the sparkle of the Black Spinel and the blue from the Labradorite, and create interesting reflections on the silver. Interestingly, Labradorite signifies strength, clarity and luck – attributes Ivy, the character who ultimately wore the necklace, would value."
A similar necklace is available to purchase at NaturesSplendour.etsy.com.
Elizabeth has designed other pieces for television, including a Cascading Black Spinel and Gold Filled Chain Necklace, worn by Kaitlyn Black (as AnnaBeth Nass) on Hart of Dixie, episode 319 and a pair of Silver Disc Earrings, worn by Elizabeth Marvel (as Rita Calhoun) on Law and Order: SVU, episode 1608.
The company will be gifting members of the press and media its Hill Tribe Silver Hammered Disc and Faceted Black Spinel necklace at GBK's 2015 Golden Globes Celebrity Gift Lounge, in association with The Artisan Group®.*
The gifted necklace shows off faceted jet black spinel gemstones contrasted against textured Hill Tribe Silver, suspended on a silky, satin cord. The by-invitation-only Gift Lounge takes place January 9-10, 2015 at an exclusive location in Beverly Hills, California.
Various Nature's Splendour pieces have been included in exclusive The Artisan Group® gift bags prepared for the Primetime Emmys, Oscars, the Golden Globes, the 46th Annual CMA Awards, the American Music Awards and the MTV Movie Awards. The company's designs have been mentioned in The Hollywood Daily Star, Power Player Lifestyle Magazine and It's Not About Me TV.
Elizabeth is a graduate gemologist with a diploma from The Gemological Institute of America in Thailand. She meticulously handcrafts her jewelry designs using traditional hand knotting and wire wrapping techniques. Her goal is to create affordable, heirloom quality pieces that offer an alternative to mass-produced designs.
Members of the press who would like to learn more about Nature's Splendour® by Elizabeth Pings may contact her by email using the Contact button, or by visiting her business pages on Twitter (@NaturesSplendor) and Facebook (@NaturesSplendour).
For press inquiries regarding The Artisan Group, visit theartisangroup.org.
*This event is not affiliated with the Golden Globes show; Nature's Splendour® by Elizabeth Pings is not in any way affiliated with the Academy of Television Arts & Sciences.
ABOUT NATURES SPLENDOUR® BY ELIZABETH PINGS
Traveling the world has opened jewelry designer Elizabeth Pings' mind to many inspiring styles and designs. From the unequalled looks of the Far East to the elegant appeal of Europe, it all has its appeal—and provides inspiration for Elizabeth's eclectic, easy-to-wear jewelry.
Nature's Splendour signature Black Spinel jewelry has been worn on numerous television shows and included in celebrity swag bags at pre-award show gift lounges for the American Music Awards, the Golden Globes, the MTV Movie Awards, New York Fashion Week, the Oscars and the Primetime Emmys. It was in the Official Gift Bag for the 46th Annual CMA Awards. A Black Spinel Necklace gifted at the 2013 Golden Globes was called out as a favorite by Karen Salkin of It's Not About Me TV and Power Player Lifestyle Magazine Editor-in-Chief Lela Christine.
Nature's Splendour® is available exclusively at http://www.NaturesSplendour.etsy.com.
Elizabeth Pings is a graduate gemologist and received her degree from the Gemological Institute of America (GIA) in Thailand. She is a member of the American Gem Trade Association.