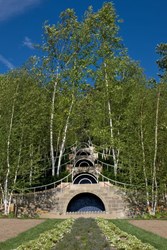 Like our recent landscape restoration of the Grand Allée at Castle Hill on the Crane Estate in Ipswich, we take our responsibility as caretakers of these magnificent cultural resources very seriously, says Barbara Erickson, Trustees President and CEO.
Stockbridge, MA (PRWEB) August 14, 2013
The Trustees of Reservations (The Trustees) have announced the completion of Phase One of an extensive garden and landscape transformation happening at Naumkeag, a National Historic Landmark located in the picturesque Berkshires of Massachusetts. Designed by McKim, Mead & White in 1885, Naumkeag is a rare, surviving example of a Gilded Age Berkshire cottage. The historic home and magnificent gardens are visited by thousands of garden, landscape and history enthusiasts from around the world each year.
The first phase of the three-year, five-phase project included the restoration of the renowned Blue Steps on the 75th anniversary of their creation, as well as several other important garden features. The Blue Steps were originally designed for Naumkeag's former owner, Mabel Choate, by America's first modern landscape architect, Fletcher Steele. One of the most famous and photographed garden features in 20th-century American landscape design, The Blue Steps are a true expression of Steele's belief that garden design should be considered one of the fine arts.
Naumkeag's gardens are a masterpiece of 30 years of collaborative, creative work by Choate and Steele. They are one of the nation's finest examples of early American modern landscape architecture and a rare surviving example of Steele's remaining work still open to the public.
The first phase of the $3-million restoration effort, supported initially by a generous anonymous donor who has pledged to match up to $1 million in donations, began this spring with the repointing, repainting and re-grouting of the Blue Steps, along with the removal and replanting of 48 new white birch trees that elegantly frame them. In addition, The Trustees, with the help of Mayer Tree Service, also removed damaged and overgrown trees located throughout several areas around the hillside estate, including along the Linden Allée, a once-verdant pathway modeled after the wooded walks of Germany, located a few yards away from the Blue Steps. More than 200 trees of various shapes and sizes have been planted amongst the gardens this spring, following Fletcher Steele's original tactic of overplanting to create a fuller, richer garden scape. Other restoration accomplishments have included updating garden infrastructure, electrical and water systems, and fountains, as well as the extensive restoration the South Lawn stonework, plantings and Chinese Pagoda.
Mabel Choate bequeathed the Naumkeag property to The Trustees in 1958 to care for and keep open for the public to enjoy. Over the last 10 years, The Trustees have worked diligently to restore several of Naumkeag's signature garden areas, including the Peony Terrace, Chinese Temple, and Evergreen Garden. Since then, additional aspects of the garden have suffered the effects of time as well as damage from harsh New England weather. Original plantings have aged or disappeared, trees have become unhealthy and overgrown resulting in obstructed views and certain structural and design features have deteriorated. As a result, The Trustees have increased the pace of their restoration efforts to bring all eight landscaped acres surrounding Naumkeag back to their former brilliance and original design.
Thanks to a carefully planned preservation effort being lead by Cindy Brockway, Trustees' Cultural Resources Program Director and Mark Wilson, Statewide Curator and Western Regional Cultural Resources Manager and supported by a team of staff, volunteers, artisans and consultants, the Naumkeag gardens are undergoing a dramatic renaissance designed to ensure their beauty and vitality can be appreciated by all for many years to come.
"Like our recent landscape restoration of the Grand Allée at Castle Hill on the Crane Estate in Ipswich, we take our responsibility as caretakers of these magnificent cultural resources very seriously," says Barbara Erickson, Trustees President and CEO. "Since the iconic gardens at Naumkeag are one of only a few Fletcher Steele–designed gardens viewable to the public, we want visitors to be able to experience them in their full and original brilliance. Mabel Choate chose to bequeath her family home to The Trustees knowing it would be lovingly maintained and shared with generations to come. It is part of our mission and true passion, as envisioned by our founder Charles Eliot, to ensure their exemplary care for everyone, forever.
"Few properties in the country reflect the American transition to French Modernism better than Naumkeag," says Brockway. "But after more than 50 years, the gardens need a refresh and a rejuvenation of the intricate details of scale, furnishings and plantings that made Naumkeag a work of fine art. By the end of the project, few landscapes in the country will have seen such a detailed restoration."
Many other important structural, cultural and natural garden and landscape features located throughout Naumkeag will also be restored, replicated and reinvigorated over the next two years through a total of 16 projects, most of which will include rebuilding, and in some cases reproducing, foundational elements such as fountains and waters systems, masonry, decorative arts and original plantings.
"We are excited to refresh some of the key planting and design elements that were so important to Mabel's and Fletcher's original intentions for this special property," says Wilson. "Whether it is the variety of plant material lost over time, the overgrown secret pathways or the damaged decorative art objects, artifacts and garden sculptures, our goal is to document every step of the process so future caretakers will be able to use our preservation plan as a reference guide and model for authentic garden restoration."
Conducting extensive behind-the-scenes research and planning over many months, Wilson, Brockway, and their team have carefully culled hundreds of original design plans, historic photos, notes, letters and documents from Fletcher Steele and Mabel Choate in order to create a thorough and authentic restoration plan that will bring back the "polish" and "shine" to Naumkeag's gardens.
Support: The ongoing work at Naumkeag is supported by the Campaign to Restore Naumkeag, a 3-year, $3 million initiative that includes a $1million challenge grant. Contributions raised toward this Challenge now total $762,000 – with $238,000 to go by September 30, 2013. Additional, funds have recently been received by the Stockbridge Community Preservation Act ($35,000) and Massachusetts Cultural Council ($128,000). For more information on the restoration project and/or how to support the campaign, please visit: http://www.thetrustees.org/naumkeagrestoration
About the Leadership Team: Lucinda A. Brockway is the Cultural Resources Program Director for The Trustees. She oversees the care and interpretation of the cultural landscapes on the organization's 111 properties, including five National Historic Landmarks. A summa cum laude graduate of the University of Rhode Island and Boston University, she ran her own firm, Past Designs (Kennebunk, ME) for 25 years before joining The Trustees. Her Past Designs work included such well-known public projects as Fort Ticonderoga's garrison grounds and Le Jardin du Roi (Ticonderoga, NY), Newport's public and private Bellevue Avenue estates, the Fells (Newbury, NH), the Battle Green (Lexington, MA), and several projects for the National Trust for Historic Preservation, including the opening of Philip Johnson's Glass House (New Canaan, CT). Her private residential designs have won recognition throughout the country.
Mark Wilson is the Curator of Collections and West Region Cultural Resources Manager for The Trustees. He has 24 years of experience in the museum profession, including positions at The Trustees of Reservations, the Nantucket Historical Association, and The Clara Barton Birthplace Museum. Mr. Wilson has a Master's Degree from Brown University in the History of Art and Architecture and a Bachelor of Arts in Archaeology from Connecticut College. He is experienced in the use of archival materials for project research and large-scale project development, budget and resource management, and on-time project completion.
About the Trustees of Reservations: The Trustees of Reservations (The Trustees) "hold in trust" and care for properties, or "reservations," of scenic, cultural, and natural significance for the general public to enjoy. Founded by open space visionary Charles Eliot in 1891, The Trustees are the nation's oldest, statewide land trust and one of Massachusetts' largest conservation organizations. Supported by more than 100,000 members and donors and thousands of volunteers, The Trustees own and manage 111 spectacular reservations -- including working farms with Community Supported Agriculture programs, historic homesteads and gardens, community parks, barrier beaches and mountain vistas -- located on more than 26,000 acres throughout the Commonwealth. In addition, The Trustees work closely with permanent affiliates including Boston Natural Areas Network and the Hilltown Land Trust. The Trustees work to preserve and protect these special places for current and future generations and offer hundreds of outreach programs, workshops, and events annually, designed to engage all ages in their mission. Accredited by the Land Trust Accreditation Commission, The Trustees are an established leader in the conservation and preservation movement and model for other land trusts nationally and internationally. To find out more or to become a member or volunteer, please contact http://www.thetrustees.org..
Please also visit us at:
https://www.facebook.com/thetrustees
https://twitter.com/thetrustees
http://www.linkedin.com/groups?home=&gid=1855196
http://www.flickr.com/groups/trustees/