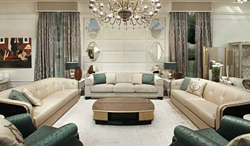 Naurelle is built from the ground up to meet a wide range of aesthetic preferences, and [Mr. Nahai's] clients count on his eye to offer them varied styles, with perfectly cohesive collections
Los Angeles, CA (PRWEB) November 18, 2015
According to an article published November 5th by Time, while shoppers looking for functional yet artistic pieces such as home furniture and décor once placed their loyalty with the manufacturer when determining their preferred brands, buyers today are now much more likely to tie their loyalties to the creative, rather than corporate forces behind these pieces. The article went in depth to analyze designers as the new entrepreneurs, who now use their fine artistic sensibilities to make the decisions about what should and shouldn't be presented to customers. According to Kayvan Nahai, the founder and lead designer of Beverly Hills luxury furniture showroom Naurelle, modern furniture shoppers often turn to high-end showrooms in order to find the best aesthetic for outfitting a whole room, rather than simply shopping for a single piece. He explains that Naurelle is built from the ground up to meet a wide range of aesthetic preferences, and his clients count on his eye to offer them varied styles, with perfectly cohesive collections:

Varied Styles – Mr. Nahai explains that Naurelle specializes in three distinct styles of furniture. The first, which Naurelle refers to as their Classic Collection, contains pieces that offer an unmistakably royal sensibility with designs that evoke the beauty of their European influences. These pieces, often hand-carved and painted down to the finest detail, use the artisanal techniques of yesteryear to create some of the best pieces of furniture today. Naurelle's second collection, containing their beautiful Traditional pieces, features lush and extravagant designs that transform furniture into true art. Finally, their Modern Collection, a favorite amongst many of their younger clientele, features the most cutting-edge designs that push the boundaries of conventional furniture aesthetics.
Cohesive Collections – Mr. Nahai explains that, although offering customers a collection that meets their aesthetic preferences is important, what's more important is making sure that each showroom collection is arranged in a way that allows every piece of furniture to complement each other in a way that truly adds to the overall beauty of the room. Mr. Nahai says that, although every piece in the Naurelle showroom passes the test of being one of the finest pieces of furniture around, it is certainly true that not every piece of fine furniture goes well with the next. He concludes that this need for a keen creative eye through every step of the process is likely one of the reasons why the designer is now king.
Those interested in learning more about the extraordinary pieces of furniture available from Naurelle can call the showroom today at (323) 852-7007, or browse its selection online at http://www.Naurelle.com.