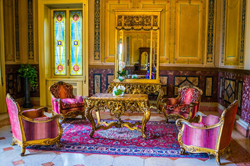 Naurelle notes that when homeowners and designers hold out for the highest level of quality, they are never disappointed.
Los Angeles, CA (PRWEB) February 23, 2016
Naurelle has been a leading luxury furniture showroom in the Los Angeles area for many years. According to an article published February 12 on The Dallas Morning News, while larger furniture retailers have appeared to be steering business away from smaller, independent showrooms, a dramatic growth in home sales, construction, growth, and competition are accounting for a revitalization of small, family-owned furniture retailers. Commenting on this article, Naurelle, a Los Angeles based luxury furniture and lighting showroom, notes that it is not surprising that consumers these days desire the best in luxury and function. With the help of the Internet, today's well-informed shopper, Naurelle notes, is able to quickly compare low quality, mass produced furniture to handmade artisanal works and make a better informed decision about how to furnish his or her home. Alongside this noted resurgence in classical production methods, Naurelle's founder and lead designer Kayvan Nahai notes that the latest trend in furniture design embraces the finest classical tastes of bygone eras.
He explains that the furniture icons they sell today, which are crafted using modern European techniques, are sure to add an element of opulence and elegance to any home. There is no better way to show off one's attention to taste and style than by accenting one's home with luxurious accessories that exemplify timeless elegance, Mr. Nahai notes. A great many of the pieces in Mr. Nahai's collection incorporate the type of aesthetic elegance harking back to previous eras, resulting in unparalleled beauty fit for luxurious homes.
Mr. Nahai describes one exemplary element in his classic prestige dining collection: highlighted in curved accents with minute details, this hand carved dining table, with a base finished in a warm ivory lacquer, is boldly surrounded by a group of wooden and cloth Versailles chairs fit for a king or queen. With a strong accent on gentle curves and gold leaf finishes, this exquisite dining set is reminiscent of Victorian aesthetic values. Complementing this luxurious dining collection is a hand carved 3-door vitrine, also adorned with a gorgeously sensual ivory lacquer. With decorations and details emblazoned in shimmering gold leaf and drawers accented with dovetail joints, this vitrine is sure to impress any guest. Naurelle notes that when homeowners and designers hold out for the highest level of quality, they are never disappointed.
Mr. Nahai notes that if a furniture shopper truly desires the highest level of both luxury and function, they will certainly find something to fall in love with at Naurelle. The showroom is open to the public during regular business hours as well as by appointment. For additional information about their current selections, call them today at (323) 852-7007, or view their collections online at http://www.Naurelle.com.